In a dazzling display of unwavering commitment to hospitality brilliance, ATELIER Playa Mujeres has emerged victorious at the highly esteemed World Travel Awards 2023, securing the esteemed title of Mexico's Leading Conference Hotel. This remarkable triumph is not merely a recognition; it's a resounding testament to ATELIER Playa Mujeres' steadfast dedication to redefining luxury experiences and setting a new paradigm for global tourism. 
Unveiling the World Travel Awards 2023 
The World Travel Awards, often hailed as the Oscars of the travel and tourism industry, stand as the ultimate global accolade, celebrating and honoring excellence in every facet of the hospitality sector. Since their inception, the World Travel Awards have symbolized the zenith of achievement, with winners epitomizing the finest in the industry. Each year, the awards recognize and reward outstanding organizations, brands, and destinations that have consistently raised the bar, setting new standards and pushing the boundaries of what is possible in the realm of travel and tourism. 
Defining Excellence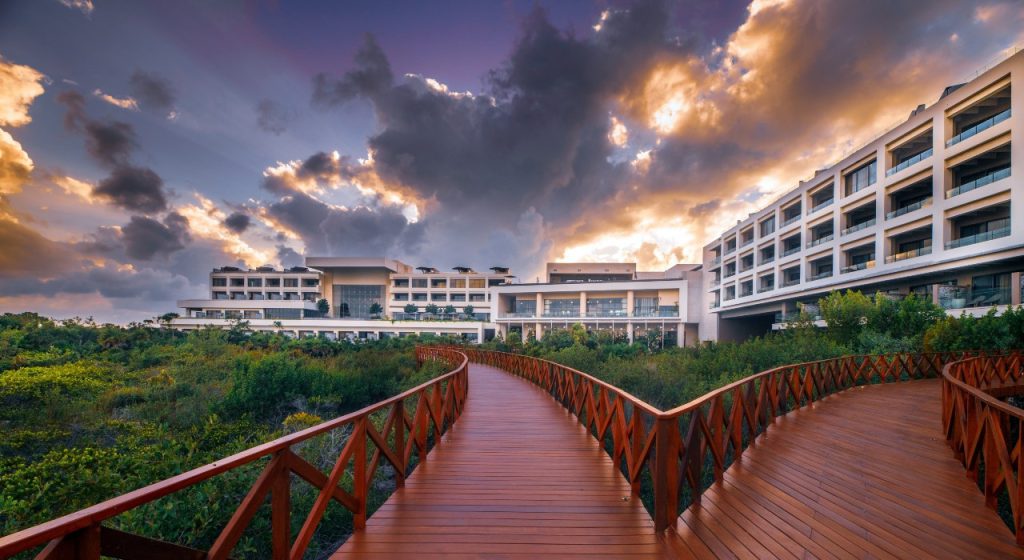 The title Mexico's Leading Conference Hotel isn't merely a label; it encapsulates a commitment to excellence across a spectrum of factors. To attain this prestigious designation, a hotel must demonstrate outstanding attributes that elevate it above its peers. These attributes encompass everything from cutting-edge facilities and Surrounding Technology® to seamless event planning, exceptional service, and a track record of successfully hosting a diverse range of conferences, conventions, and meetings. 
State-of-the-Art Facilities: Elevating Conference Experiences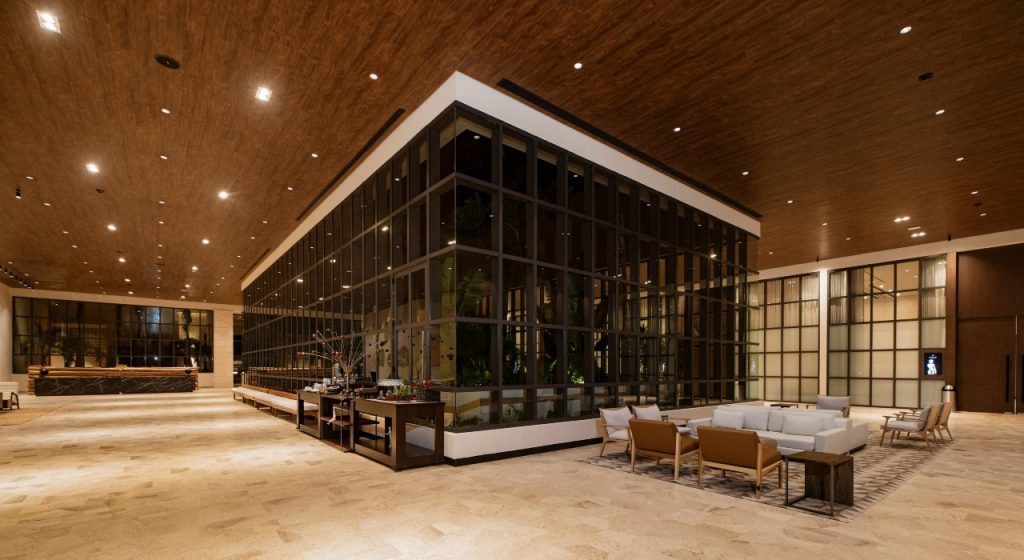 In the realm of leading conference hotels, the art of crafting state-of-the-art facilities goes beyond practicality; it's about creating inspirational spaces that ignite imagination and fuel collaboration. ATELIER Playa Mujeres has masterfully embraced this ethos, redefining what it means to provide cutting-edge meeting environments that cater to the dynamic demands of modern conferences. 
A Symphony of Innovation 
Within the expansive realm of ATELIER Playa Mujeres' Conference and Events offerings, the concept of Eventos Hechos a Mano® (Handcrafted Events) takes center stage. This visionary approach transforms every gathering into a symphony of innovation, where attention to detail and a commitment to personalized experiences converge. This commitment resonates within the resort's meticulously designed 2,836 square meters (30,524 square feet) Convention Center, a hub of creativity equipped with state-of-the-art technology and world-class amenities. 
Versatile and Adaptive Spaces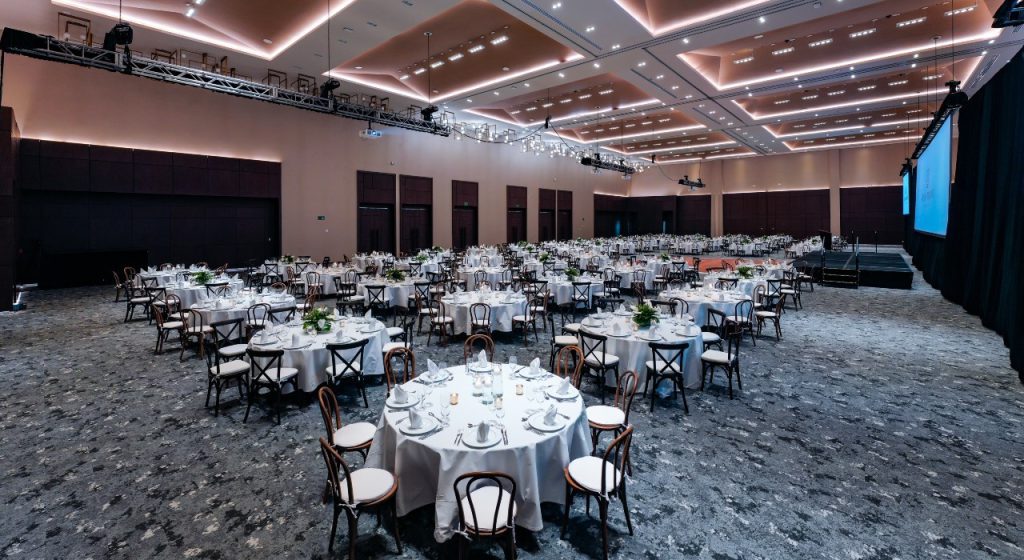 At the heart of ATELIER Playa Mujeres' conference prowess lies its versatility. The resort boasts six multifunctional salons, thoughtfully curated to adapt seamlessly to an array of event types. From intimate brainstorming sessions to grand symposiums, these spaces transcend the conventional, providing a canvas where ideas can flourish. The ergonomic furnishings, advanced audiovisual equipment, and high-speed internet connectivity form a symphony of practicality and innovation, ensuring every attendee's experience is as enriching as it is seamless. 
The Foyer: Where Luxury Meets Openness 
Among the many jewels in ATELIER Playa Mujeres' crown, the Foyer stands as a testament to the resort's dedication to creating environments that blend luxury with openness. Spanning an impressive 900 square meters (9,687 square feet), this air-conditioned expanse is a canvas of possibilities. An ideal setting for exhibitions, receptions, and group gatherings, the Foyer's centerpiece—a tranquil central garden—immerses attendees in the lap of luxury. It's a space where connections are forged, creativity flourishes, and the boundaries between indoor and outdoor seamlessly blur. 
A Symphony of Service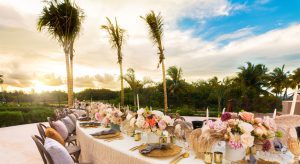 Beyond physical facilities, a leading conference hotel distinguishes itself through its unrivaled services. This encompasses a comprehensive suite of amenities tailored to conference attendees, from world-class catering options that cater to diverse culinary preferences to dedicated event planners who ensure every detail is meticulously executed. At ATELIER Playa Mujeres, this victory is a tribute to the dedication and passion of the staff who work tirelessly to ensure every guest's experience is a symphony of impeccable service. The resort's commitment to personalized attention, anticipatory service, and a relentless pursuit of guest satisfaction has elevated it to a realm of hospitality that is both rare and revered.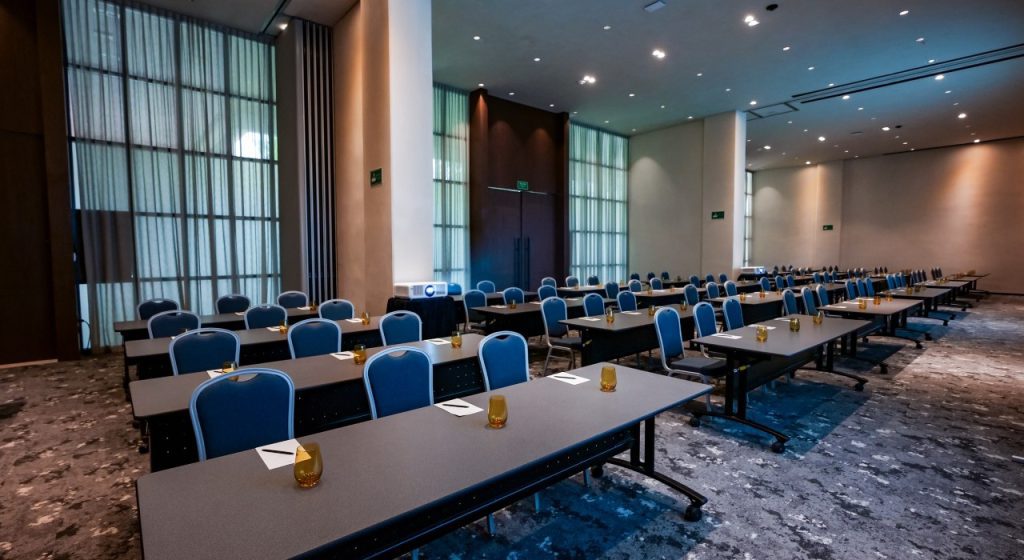 As we celebrate ATELIER Playa Mujeres' remarkable triumph at the World Travel Awards 2023, we're not just applauding a victory; we're heralding a radiant future for luxury hospitality. This achievement exemplifies the power of passion, dedication, and innovation to shape experiences that captivate the soul and elevate the spirit. ATELIER Playa Mujeres' unwavering commitment to excellence serves as a guiding light, illuminating the path for others to follow and reminding us all that the pursuit of perfection is a journey with no end, but an ever-brightening horizon.