We are very pleased to announce that ÓLEO Cancun Playa was awarded the Punto Limpio Badge! In today's entry, we are going to show you why our boutique resort was rewarded with this certification given by a leading authority in the Mexican tourism industry, as well as the importance of implementing health and hygiene standard guidelines 
Another Great Achievement for ÓLEO Cancun Playa
Due to the current situation, ÓLEO Cancun Playa decided to go one step ahead to guarantee our guests a safe and worry-free vacation.
Therefore, in the past few days our, 4+ star minimalist boutique resort was awarded the Punto Limpio badge in a symbolic ceremony with authorities, ATELIER de Hoteles' executives, and the resort's staff, in which the strategies applied to improve the hygienic practices within the facilities were presented. Also, each one of the managers of the different areas of the resort was given a certificate that also guarantees that they passed the Punto Limpio program. 
It is worth mentioning that with this badge, ÓLEO Cancun Playa obtains a new achievement and consolidates itself as one of the resorts in the Mexican Caribbean with the best hygienic-sanitary quality!
What is Punto Limpio?
Punto Limpio, which stands for "Clean Spot", is a certification given by Federal and Local Tourism and Health Leading Authorities, that assesses good hygiene practices in the tourism industry to protect the health of guests, staff, and the community.
Points to Qualify for Punto Limpio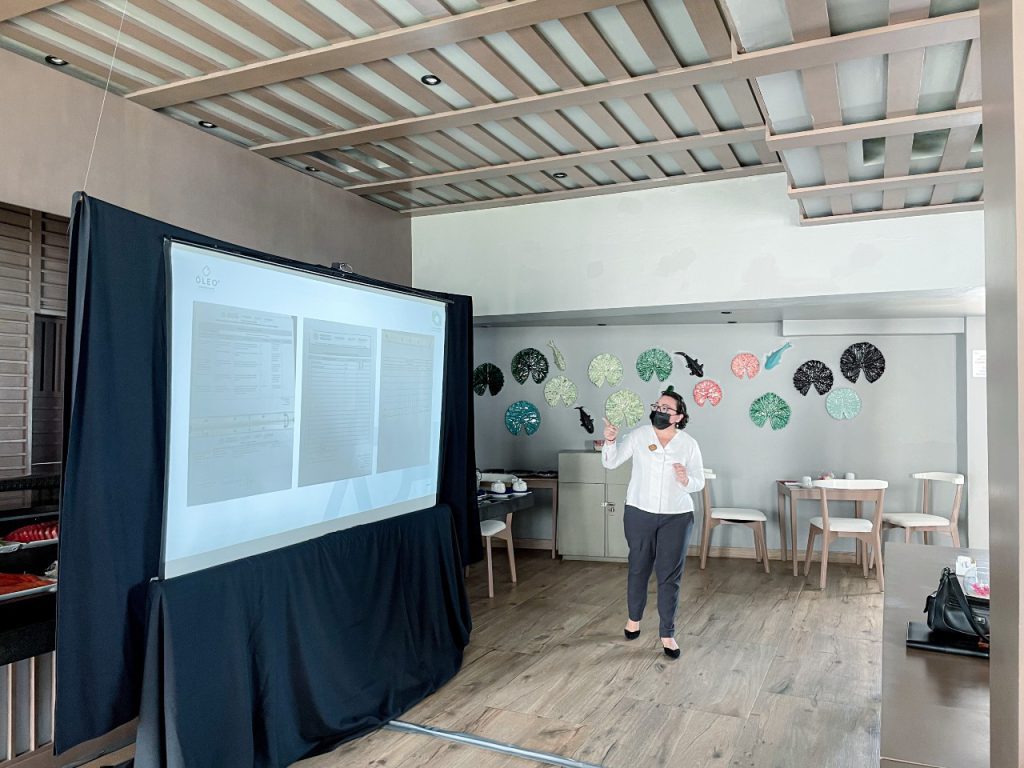 As with every certification, Punto Limpio also has points to qualify for it. Our boutique resort's staff worked these last months to learn all the guidelines to obtain this certification, from knowing each one of the hazard risks to creating cleaning logbooks.  
Here are the five points with which Punto Limpio evaluated ÓLEO Cancun Playa: 
Manager Development
Upon starting the program, each area manager of ÓLEO Cancun Playa received training to develop their abilities, and in this way lead their teams to an improvement in their hygiene practices. 
Hygienic Quality
Once the managers were trained, it was time for their staff and work teams to do the same. They were also trained with the necessary Hygienic Quality techniques and knowledge. During this training, the concepts of hygiene of facilities, prevention of risks, diseases, and contaminants, among others, were ensured by performing constant diagnostic evaluations.
Best Practices per Business Unit
In ÓLEO Cancun Playa are different areas in charge of specific tasks so that the resort is in perfect condition and our guests receive the best attention. 
For this point, each area or Business Unit will be able to identify, according to their needs, their risks and good hygiene practices, since not all the points qualify for every area. For example, reception may not have the same number or qualifications as maintenance.
Quality Assurance
As the title says, having already learned all the techniques and concepts, and put them into action, it is time to practice them to ensure we don't forget them! This will allow continuous improvement in all areas so that guests and staff are safe in an environment with good hygiene and practices.
Counseling and Validation
We have finally reached the last point where all the things we have learned are going to be validated. Here, an official consultant verified and qualified different parameters of the facilities of ÓLEO Cancun Playa, as well as the good practices of all of us who are part of this boutique resort.
Having approved this and the other 4 points mentioned above, our boutique resort finally gets, with a lot of effort and dedication, the Punto Limpio certification.
See here what the press and news are saying about ÓLEO Cancun Playa and its Punto Limpio Certification:  
Now that you know ÓLEO Cancun Playa has the Punto Limpio badge, are you ready for a relaxing vacation?