Have you ever imagined there is a place, or two, that will take you into a relaxation experience where the natural wonder of powder-soft sands, free-spirited indulgence, and bohemian charm are awaiting? Take an unparalleled trip to Isla Mujeres and Isla Contoy to withdraw into a serene Caribbean scene during your vacation in Playa Mujeres
Learn more about these two Mexican Caribbean jewels and start planning your next adventure.
Isla Contoy: A turquoise sanctuary where serenity flows in with the tide
That is the best way to describe Isla Contoy, a charming and unspoiled island of 8.5 km in length and only 70 ft at its narrowest point. Located about 30 miles from Isla Mujeres, its palm-filled coastline, extensive reef, mangroves, and its particular nesting ground for birds, serves as a secluded and ecotourist getaway for tourists from all over the world.
The name itself "Contoy" has two possible origins: from the Mayan words "Kom" (lower) and To´oy (cover), relating to Isla Contoy as a refugee for mariners and sailors; or the word "Pontó", Mayan for pelican.
Isla Contoy is renowned as a bird sanctuary and permanent residence of more than 150 species of local and migratory birds, including the double-crested cormorant, the hawksbill, the frigate, and the brown pelican, just to mention some.
Declared as a nature reserve in 1998, the island is protected by the Mexican Government and only supervised eco-tourism is allowed, permitting 200 visitors daily.
With its pristine waters and the unparalleled snorkel locations at the reef paying a visit to Isla Contoy is an experience you have to live at least once in your life.
Isla Mujeres: A Magical Town in Mexico
Sunshine and seascapes invite you to indulge in Isla Mujeres, a 4 miles long tropical island that will bring countless memories of your trip to Mexico, a magic place where you will enjoy the pleasures of the island's boho lifestyle.
Amidst such astounding natural beauty, Isla Mujeres' exciting vibes are present in every corner with an ample repertory of places to visit and things to do.
From exploring the island by golf cart, swimming with whale sharks, visit the rocky coastal cliffs at Punta Sur, and exploring the underwater Museum of Art, Isla Mujeres has it all to have a vacation packed with adventure while staying at Playa Mujeres.
Island Hopping: An Adventure Awaits on your Next Trip to Isla Mujeres and Isla Contoy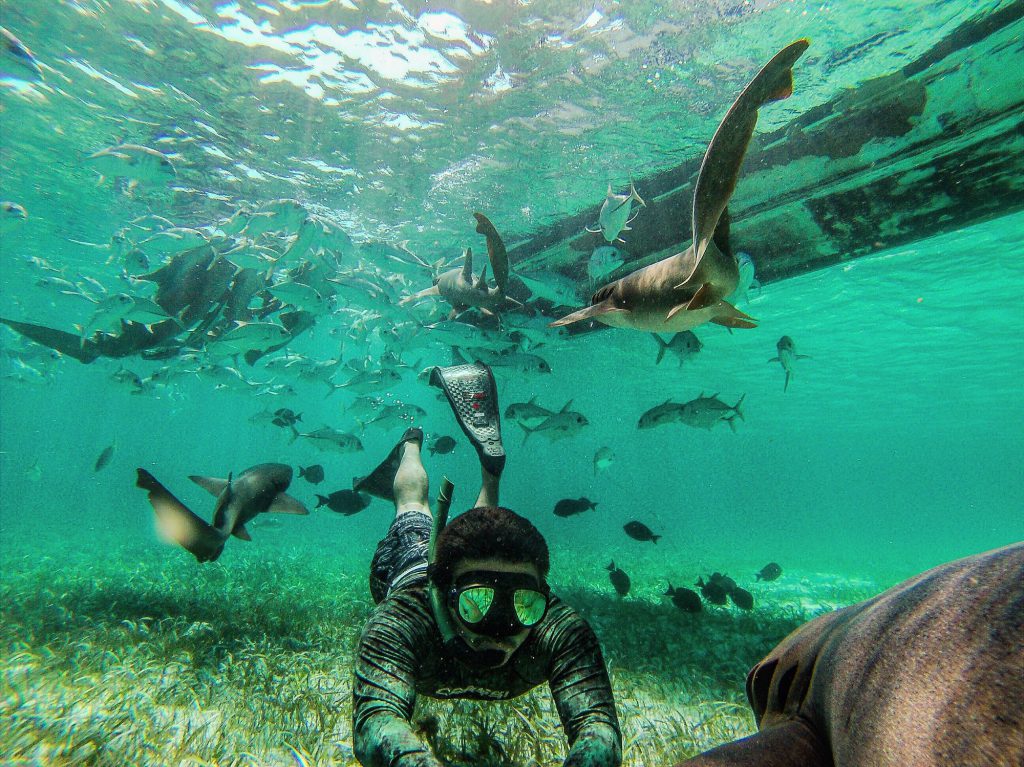 A trip to Isla Mujeres and Isla Contoy is the perfect Cancun day trip you can choose to spend along with family, friends, or that special someone for an unforgettable memory to share.
Sail the serene waters between Cancun and Isla Mujeres and take a day trip to visit these unique Caribbean islands and enjoy the 360° turquoise panoramas that lure you offshore and into a unique experience.
Arrange now an unparalleled trip to Isla Mujeres and Isla Contoy through your hotel's concierge and enjoy a dreamy day in the Caribbean!
If you are staying at ATELIER Playa Mujeres or ESTUDIO Playa Mujeres, there are hospitality desks ready to assist you to book your trip to Isla Mujeres and Isla Contoy!