Did you know that there is a whole day dedicated to art? World Art Day is a really great way to share your appreciation and admiration for beautiful and creative paintings, sculptures, buildings, and culinary delights. It is also a great opportunity to honor the creative geniuses that have brought aesthetic wonders to life.
What better place to celebrate than at ATELIER · ESTUDIO Playa Mujeres?
Let us show you why the Barefoot Luxury® resort which is recognized for contemporary Mexican art, extraordinarily creative gastronomy, and breathtaking architecture and designs is the perfect place to celebrate World Art Day!
World Art Day
World Art Day occurs every year on the 15th of April. This special day is dedicated to celebrating and honoring everything related to the fine arts, as outlined by the International Association of Art.
It is a day to promote, appreciate, and recognize a variety of different art forms and the brilliant artists behind them.
Art & ATELIER · ESTUDIO Playa Mujeres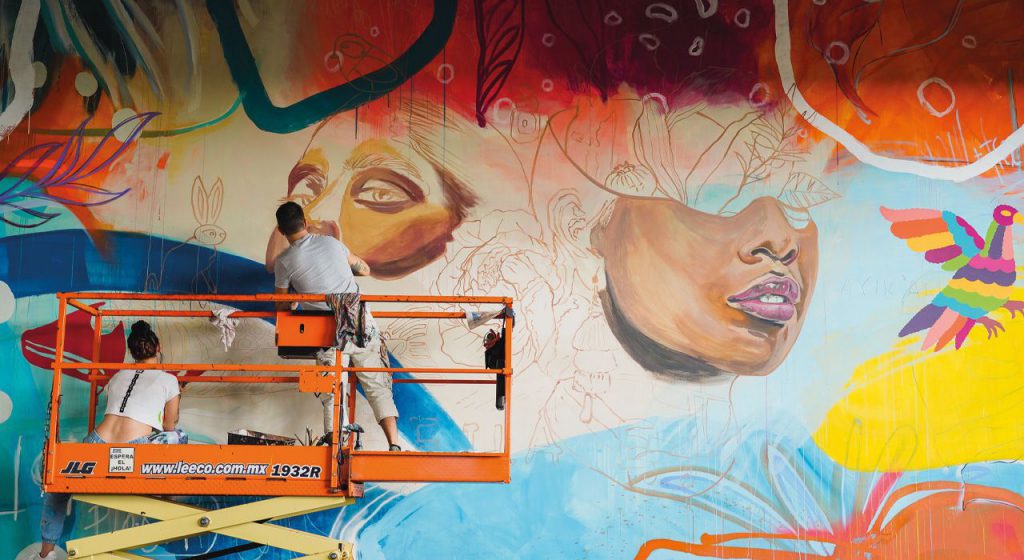 ATELIER · ESTUDIO Playa Mujeres is a 5+ star all-inclusive resort complex that is located in the safe and private Playa Mujeres gated community just north of downtown Cancun. The award-winning property is renowned for its all-suite concept, luxurious ambiance, consistent deliverance of Handcrafted Hospitality®, and a theme centered around contemporary Mexican art… the perfect place to celebrate World Art Day!
Celebrating Contemporary Mexican Art of All Forms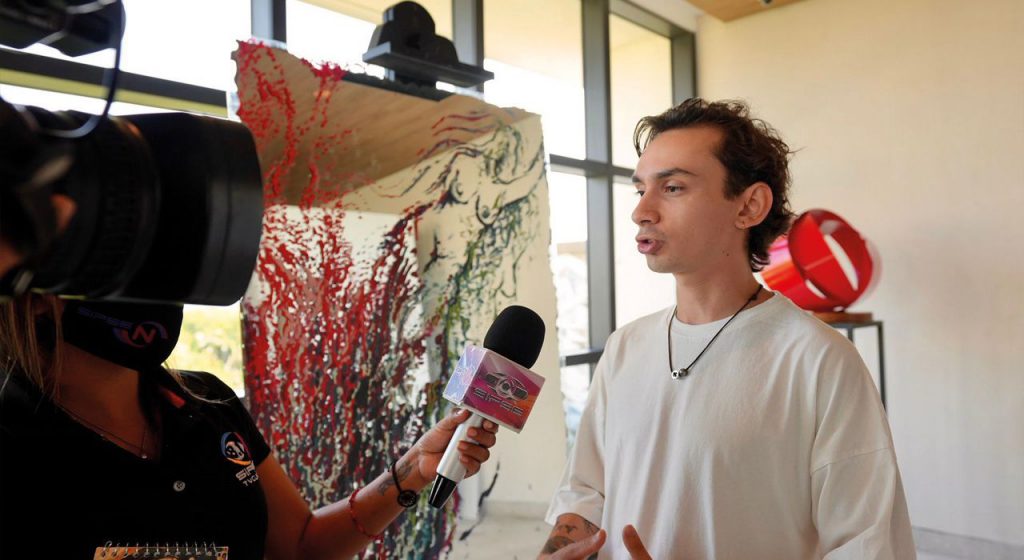 At the resort property, guests and visitors can enjoy murals that were painted by up and coming Mexican artists, décor, and furniture that scream Mexican culture, a lobby that is elegantly accented by colorful pieces from across the country, suites that offer a post-modern take on cultural appreciation, a stunning art gallery with pieces for purchase, and an authentic opportunity for guests to explore the fine-dining side of Mexican culinary art at a signature restaurant by a renowned celebrity chef from Mexico City.
Murals
One of the best things about the resort is the chic placing of unique and original murals throughout the property. Guests and visitors are gifted pleasant views while exploring the facilities or making their way to and from bars and restaurants.
Rubén Soto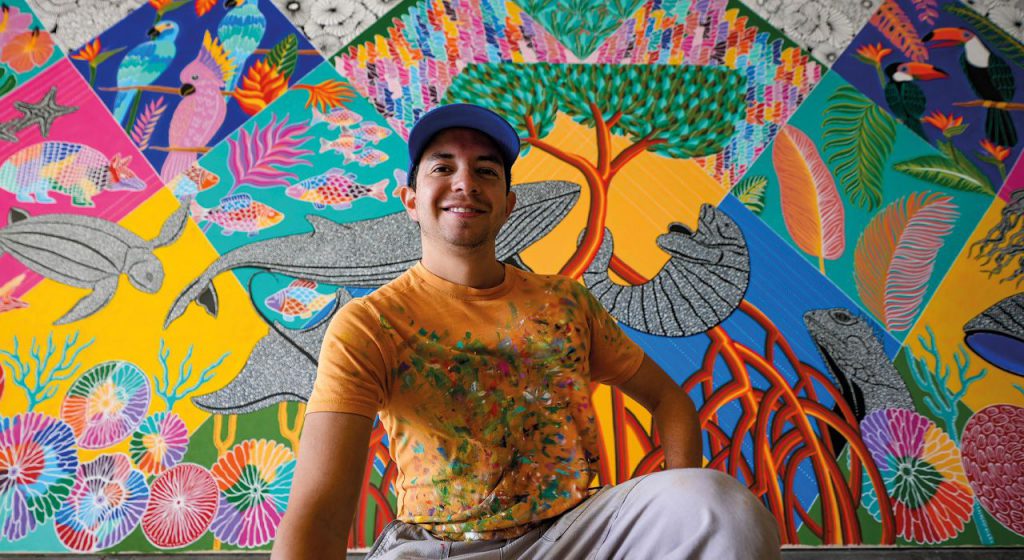 Rubén Soto is a renowned artist and muralist from Cuernavaca, Morelos, Mexico. Most of this vibrant soul's pieces are created using Indian ink pens and/or acrylic paint.
Rubén's Mural
Rubén's concrete mural at the resort complex is a figurative message that is meant to motivate passing admirers and raise their awareness about the importance of environmental protection. The beautiful mural is full of images of endemic species, modern designs, geometric shapes, and pleasing patterns.
Leo Tezcucano
Leo Tezcucano is a renowned local artist, designer, and photographer located here in Cancun, and he is known for his unique artistic language and his colorful post-modern approach to creating textured pieces with a variety of mediums as photography, illustrations, paintings, and even natural elements.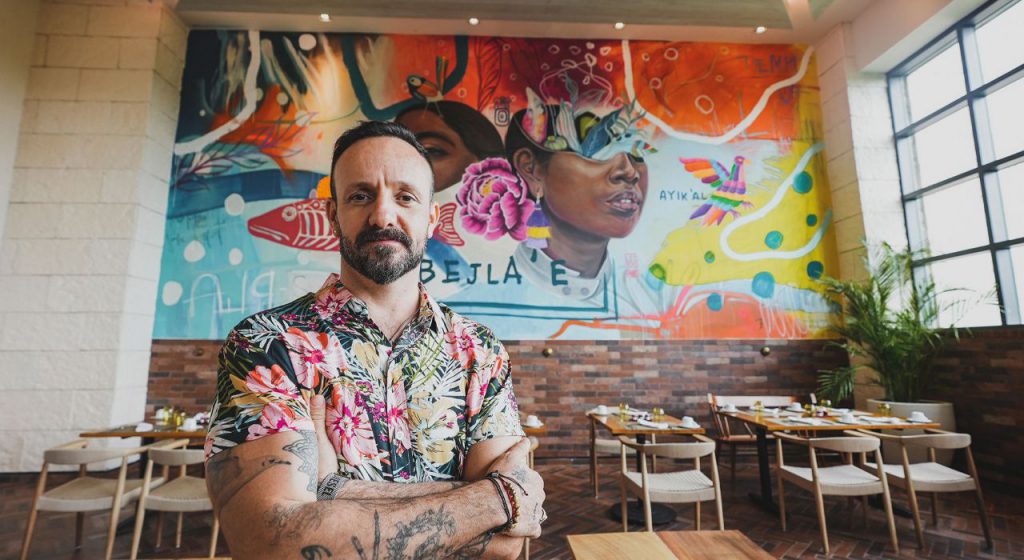 He has two murals at the resort complex, both of which are vibrantly aesthetic and add extra color and warmth to the beautiful walls.
The Lobby and the Décor
From the moment guests arrive at ATELIER · ESTUDIO Playa Mujeres, they are immediately immersed in a world that simply yet boldly screams contemporary Mexican art.
Fun ATELIER Art Fact
Interesting fact: if you analyze close enough, in-between moments during your check-in or perhaps while you enjoy your welcome cocktail, you will notice massive concrete spheres intertwined between the furniture.
These large heavy objects are Mexican art pieces, and when considered all parts of one artistic representation…they symbolize the ten-beaded segments found on a rosary… isn't that an interesting fact, especially for World Art Day?
Art Gallery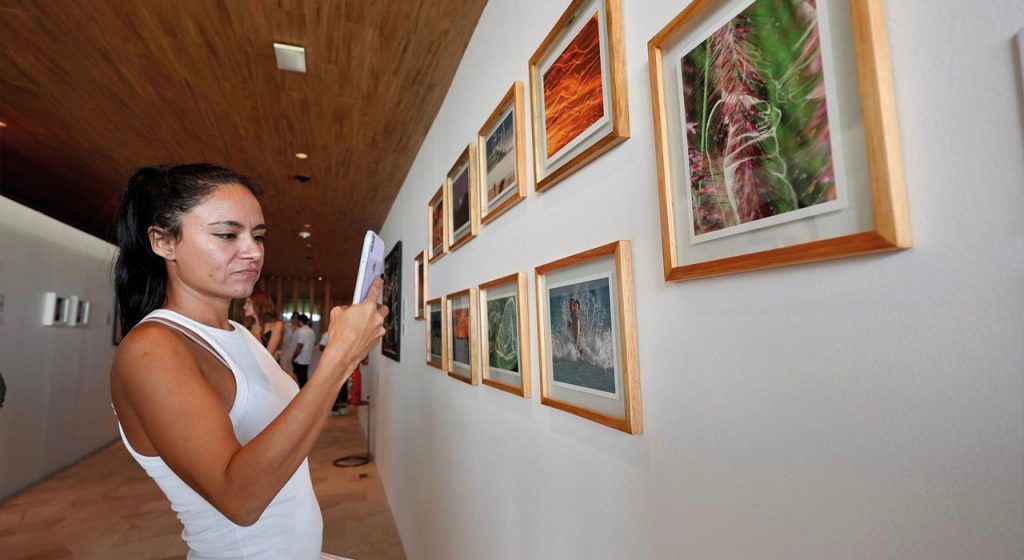 The Barefoot Luxury® resort complex even boasts its very own art gallery containing signature creations from artists from across the country. This means you can purchase your very own Mexican masterpiece to enjoy celebrating contemporary Mexican art any day of the year, and not just on World Art Day.
Celebrating Mexican Culinary Art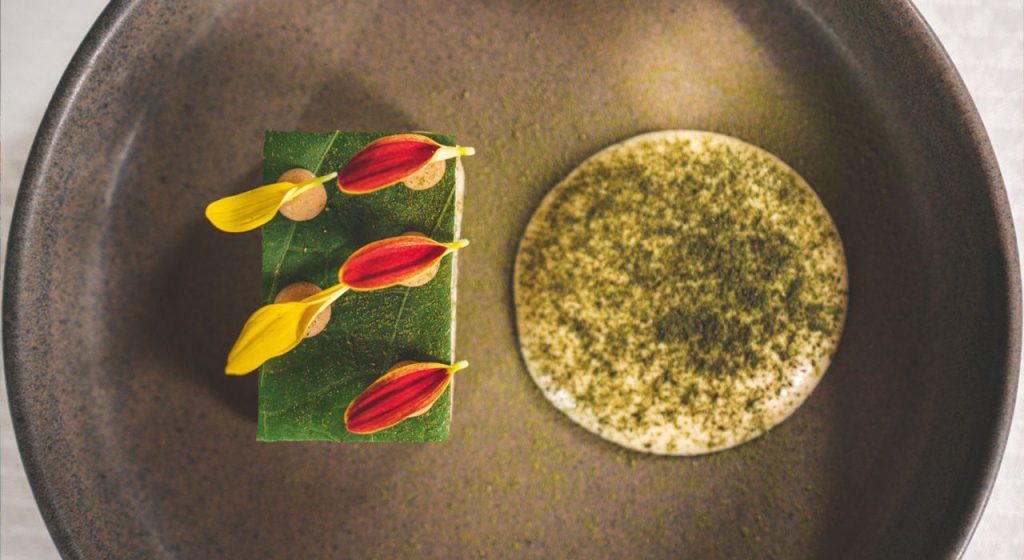 One of the most delicious parts of World Art Day is exploring the realm of culinary creations, and for that reason, ATELIER · ESTUDIO Playa Mujeres shines even brighter since a celebrity Mexican chef decided to offer his modern take on ancestral cooking techniques with the signature fine-dining restaurant, María Dolores by Edgar Núñez.
María Dolores by Edgar Núñez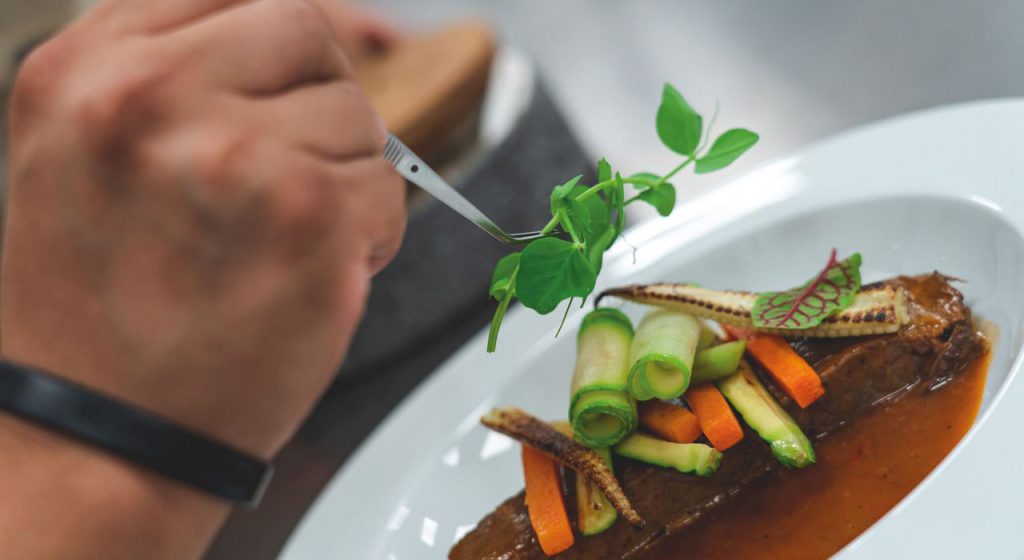 This gem of a dining menu is recognized worldwide for allowing guests to take a sensorial journey through time that more than pleases the palate with dishes that are carefully crafted by a team of kitchen artist geniuses.
Edgar Núñez fuses ancient cooking techniques of Mesoamerican with modern regional ingredients to allow guests to celebrate contemporary Mexican culinary art at its very finest, any night of the week.
Regardless of your favorite art forms, ATELIER · ESTUDIO Playa Mujeres has something masterful for everyone to feast their eyes and tastebuds with! We hope you come join us soon to see how guests enjoy celebrating contemporary Mexican art and the creative minds that bring these delectable masterpieces to life!
What is your favorite genre of art?
Have you had the pleasure to witness the magic of contemporary Mexican art at ATELIER · ESTUDIO Playa Mujeres?