To celebrate International Chefs Day, we're taking you on tour through ATELIER Playa Mujeres' kitchen to discover the brain behind its delectable gastronomic offer.
Meet Chef José Antonio Domínguez Estrada
Born in Toluca, Mexico, Chef Domínguez is the renowned hotel chain's executive chef, his vast experience of over 12 years has given him the tools to keep surprising guests with his culinary creations beyond the imagination.
We asked the renowned cuisine extraordinaire to answer five questions to inspire aspiring chefs, kitchen connoisseurs, and food enthusiasts worldwide.
When did you decide to become a chef?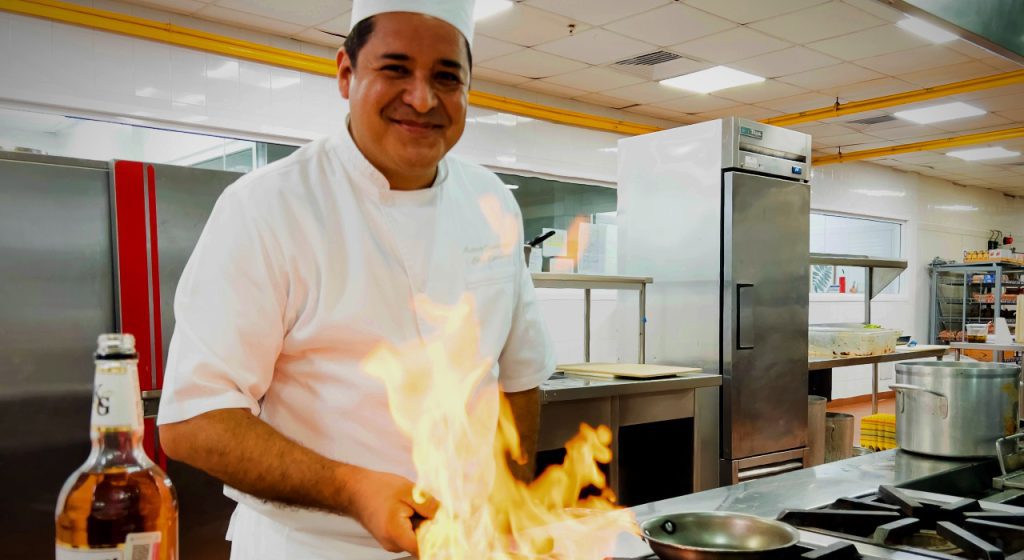 "My grandmother was a pastry chef, so I've been in the kitchen since I was a child." Chef Domínguez revealed with a loving tone. "After high school, I wanted to study law, but my heart led me to take a cuisine summer course, and that's when I decided to dedicate my life to this exciting field."
What is it that you enjoy the most about your job?
"One of the aspects I love the most is getting to meet new people and discover foreign countries." ATELIER de Hoteles' Executive Chef responded.
"I've recently had the opportunity to travel to Ecuador to learn about chocolate production. It is a very long process, and each step has to be performed with the utmost care." He patiently explained. "Cacao must be harvested, fermented, sun-dried, sorted, cleaned, roasted, winnowed, conched, blended, and finally tempered before becoming the chocolate we all know and love."
What is your favorite dish?
"Chiles Rellenos!" the chef quickly answered. "Because it is a family tradition… we would work together to make them – my aunts grilled the chiles while my mom made the filling, and I separated the yolks – so it is the meal I love the most for eating and cooking."
"However, I'm also very fond of french cuisine because I have dedicated many years to excelling at it." He added with excitement.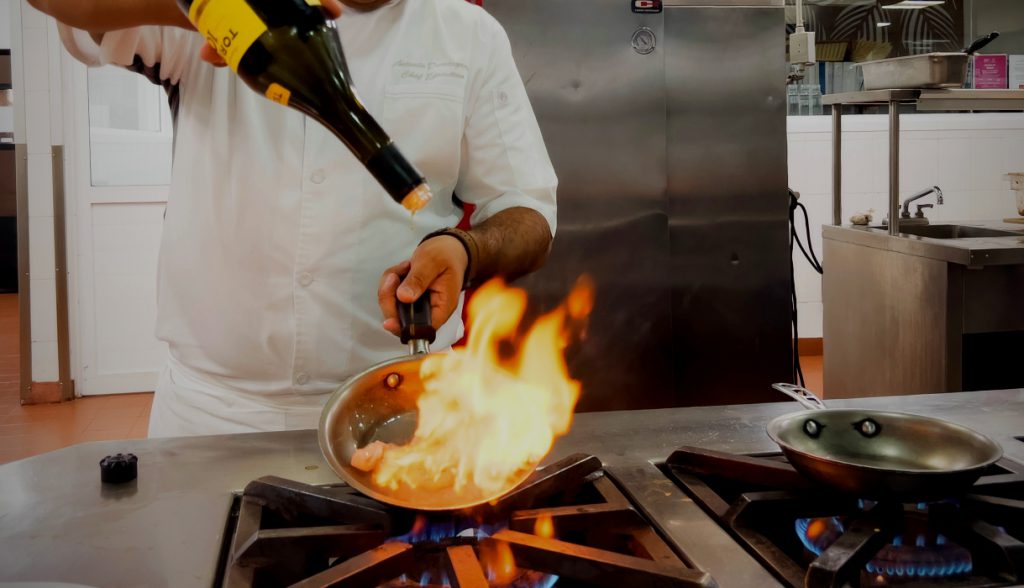 What are the qualities that every chef must have?
What advice would you give to someone who wants to become a chef?
"I think you need to be very passionate about cooking." answered the kitchen wizard. "Many people believe that you start school and immediately become ready to cook intricate plates, but you must first perfect skills that can become tedious such as peeling potatoes, identifying vegetables, etc."
"The truth is it is a demanding career that takes a lot of courage and patience to pursue," he thoughtfully shared "so it is critical not to become desperate. Allow yourself to make mistakes and learn from them."
ATELIER de Hoteles Executive Chef's Message for Future Guests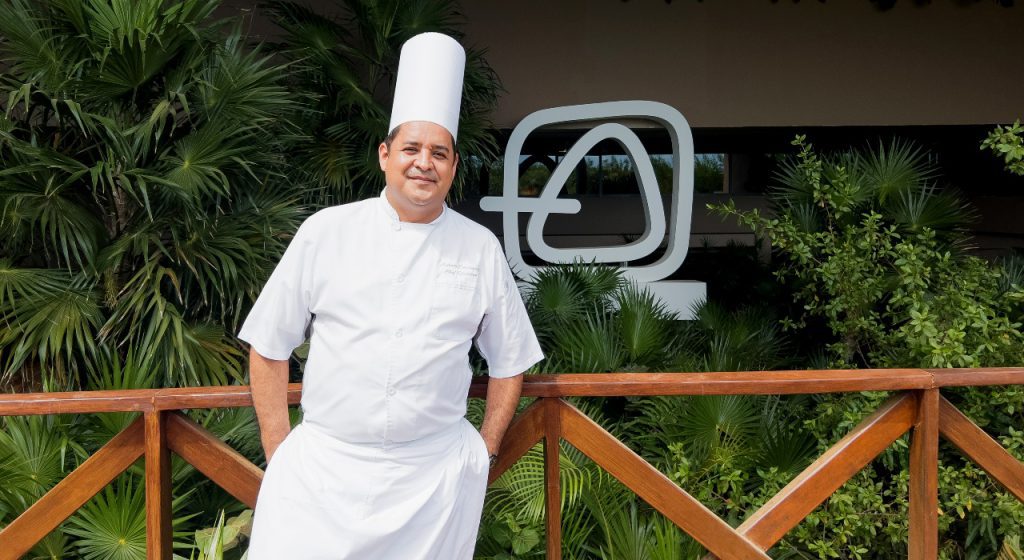 "I just wish to ensure them that we genuinely do everything with love." The chef remarked with enthusiasm. "We strive to make each item that leaves ATELIER's cuisine as personalized and excellent as possible. From the paper wrapped around a delicate dessert to the order of ingredients in the buffet, we supervise every detail to ensure an exceptional experience for our guests."
"For example, this month's special is tostadas, so we're making a state-of-the-art tostada station with beef, chicken, potato, and all the imaginable flavors and complements for this staple Mexican dish. Last month it was Chiles en Nogada, which was an absolute success!" he told us with glaring eyes.
International Chefs Day in ATELIER Playa Mujeres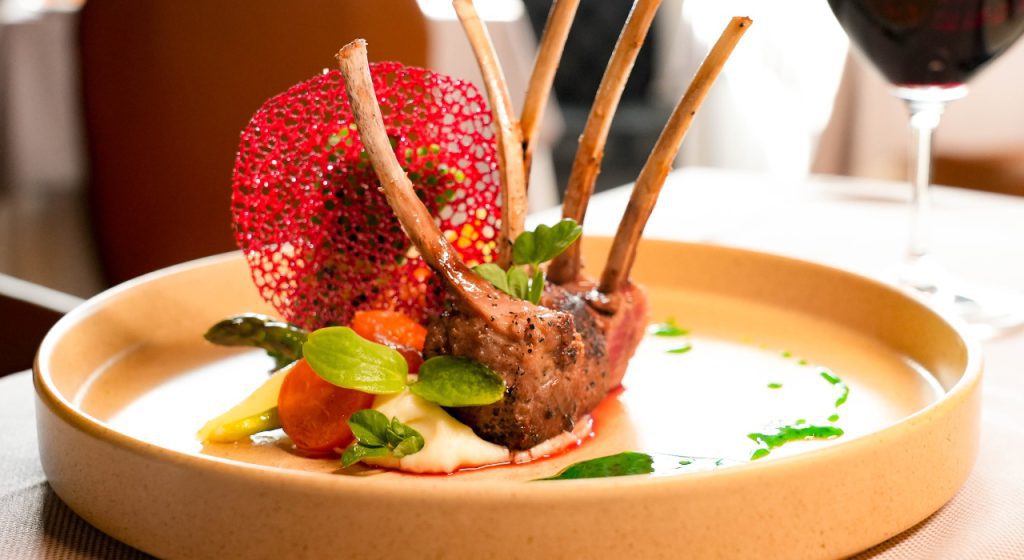 You can appreciate Chef Domínguez's skilled work when dining in one of ATELIER Playa Mujeres' 10+ included restaurants during your next stay. The five-star resort's gastronomic offer features Mexican, Japanese, and Mediterranean cuisine to delight your palate.
A staple of the fine dining offered on the all-inclusive plan is Los Abrazos, a delicious firewood kitchen with a delectable a-la-carte menu boasting dishes like Rib Chop Steak.
International Chefs Day in ÓLEO Cancun Playa
The minimalist boutique resort's restaurants undoubtedly reflect the quality standards of ATELIER de Hoteles, with great examples like Hakka or Almar, which on top of their mouthwatering menu, also boast impressive ocean views.
Have you had the opportunity to taste these restaurant's gourmet dishes? Let us know your favorite in the comments!