When on vacation, there is nothing better than going to a spa to relax and forget your daily routine. As you visit the Mexican Caribbean, and especially our luxury resort ATELIER Playa Mujeres, you will discover NUUP Spa® Playa Mujeres, a world-class wellness center that offers unique massages, treatments, and services. Our renowned spa recently won the 2022 World Luxury Spa Awards in the Luxury Couples Spa Global Winner category!
So today, we will take a tour through the awarded NUUP Spa® Playa Mujeres for you to have a first impression. Are you ready? Then let's go!
World Luxury Spa Awards
But before we get into this tour, there is something you need to know about these accolades.
The World Luxury Spa Awards is a prestigious organization and a global community dedicated to rewarding spas in different categories. They recognize their world-class facilities, the service excellence provided to guests, and many more important assets.
Therefore, we are extremely honored to be distinguished by one of the leading authorities as one of the best luxury spas in Playa Mujeres.
Visiting NUUP Spa® Playa Mujeres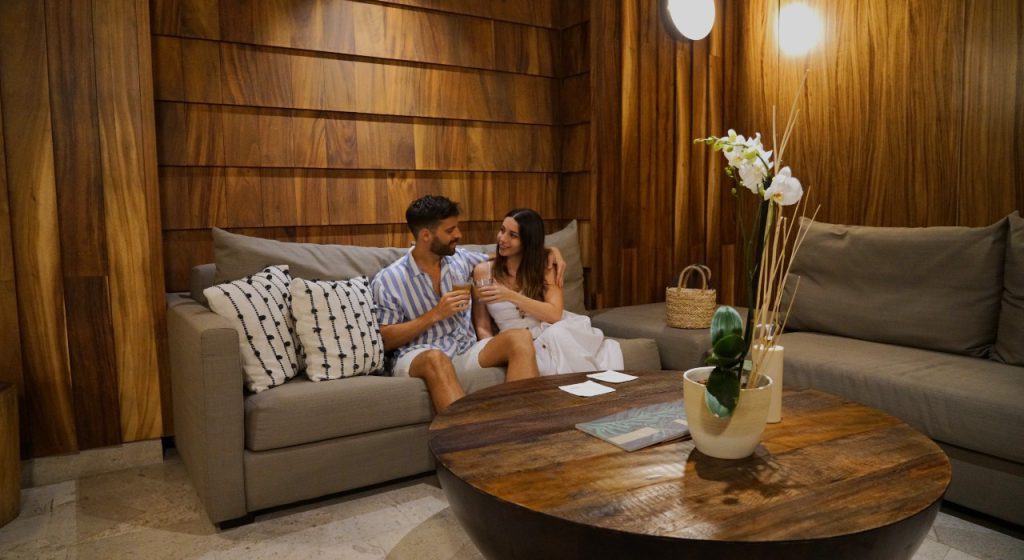 As you enter the state-of-the-art facilities, a zen environment engulfed with a soothing fragrance welcomes you. Upon arrival at the reception desk, you will be greeted by the kind staff who will show you the services and offer you a refreshing tea.
As the best Luxury Couples Spa Global Winner, NUUP Spa® Playa Mujeres presents a plethora of massages, treatments, manicures and pedicures, and many other salon services, for you and your loved one, but as you walk through the hallways, you can get a glimpse of the beautiful Bridal Dress-Up Lounge® specially designed for those bride-to-be and maids, featuring a bar, treatment chair, private bathroom, and dresser-fitting room.
Hydrotherapy Circuit
Now it's your time to unwind! Follow us to the hydrotherapy circuit, an invigorating journey to become one with water through its healing power!
Steam Room
The first stop of this circuit is at the steam room! Enter into this warm zone for 10 minutes, perfect for health as it can improve circulation and respiratory problems, make the skin glow, loosen joint stiffness, reduce stress, and much more! We recommend applying the aromatic eucalyptus-like exfoliating scrub they offer you at the beginning to remove any dead skin. After that, you will have a cold-water bath to close all your pores and feel your body super soft.
Sauna
Let's head to the second one: the sauna. Unlike the steam room, the sauna is a very hot but dry room that can improve your cardiovascular health, relieve pain, and help the body relax. This is also a 10-minute stop where you just lay and get cold cucumbers in your eyes together with an ice-cold towel.
After the time has passed, you will go to a cold deep plunge pool! But this time, you are going to submerge quickly because the water it's definitely much cooler than the one you get at after the steam bath!
Plunge Pool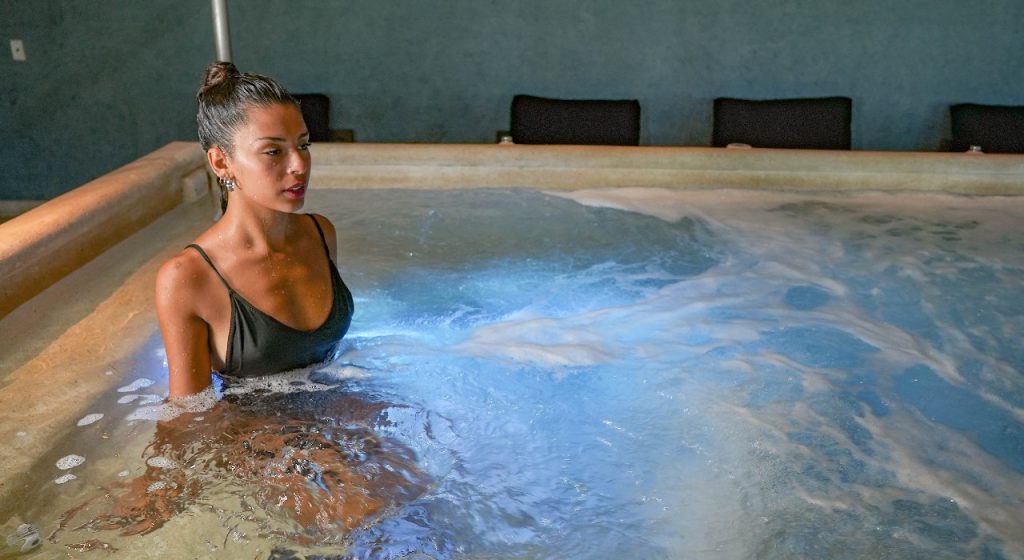 Time to chill at the plunge pool! Feel the pressurized water jet relieve your muscles and warm your body after that cold soak. This is the perfect space to close your eyes and just let yourself be carried away by the calm atmosphere.
Hydromassage Pool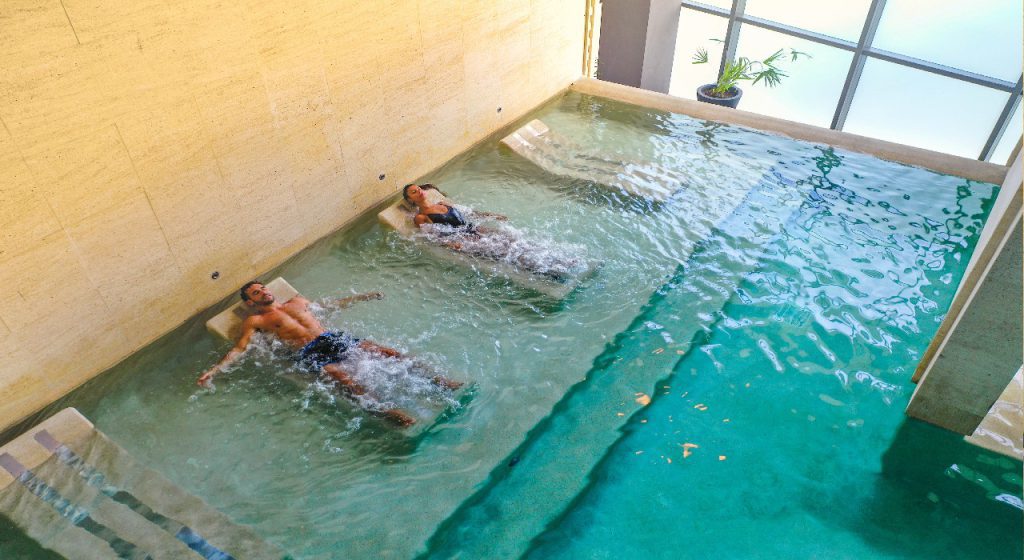 "Me" time doesn't get over! Our favorite part of the hydrotherapy circuit is this indoor pool, a sensorial haven to swim with serene music or talk with your companion. This ludic pool features four spot hydromassages to complement your circuit—for your back, neck, shoulders, and legs.
We highly suggest you go in the afternoon because you can see the sunset right through the large windows, it will give you a nice final touch and make your experience even more pleasant!
Lounges to Kick Back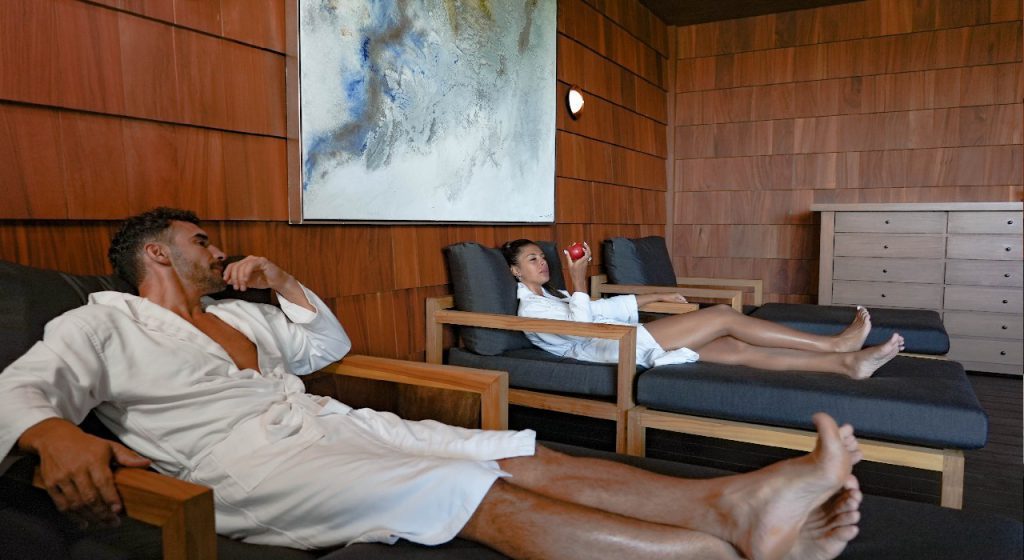 After already boosting your energy to keep up with your day-to-day activities, NUUP Spa® Playa Mujeres has lounges to lay down, plus a special tea station with assorted flavors to sip on a cup of tea. Let your body, mind, and soul loosen up before returning to your suite or getting ready to indulge in a delicious lunch or dinner!
Now that you have discovered what it's like to be in the facilities and experience a high-class treatment at the NUUP Spa® Playa Mujeres Luxury Couples Spa Global Winner, are you ready to visit us?