In the world of hospitality, standing out is no easy feat. However, ATELIER de Hoteles has demonstrated exceptional dedication to perfection in every aspect of their resort, ATELIER Playa Mujeres. Their unwavering commitment to providing top-tier luxury experiences has been recognized and celebrated in the prestigious Travel Weekly Magellan Awards. In this blog post, we'll explore why ATELIER Playa Mujeres secured multiple wins at the Magellan Awards across various categories, highlighting their remarkable achievements.
ATELIER Playa Mujeres: Where Luxury and Beachfront Unite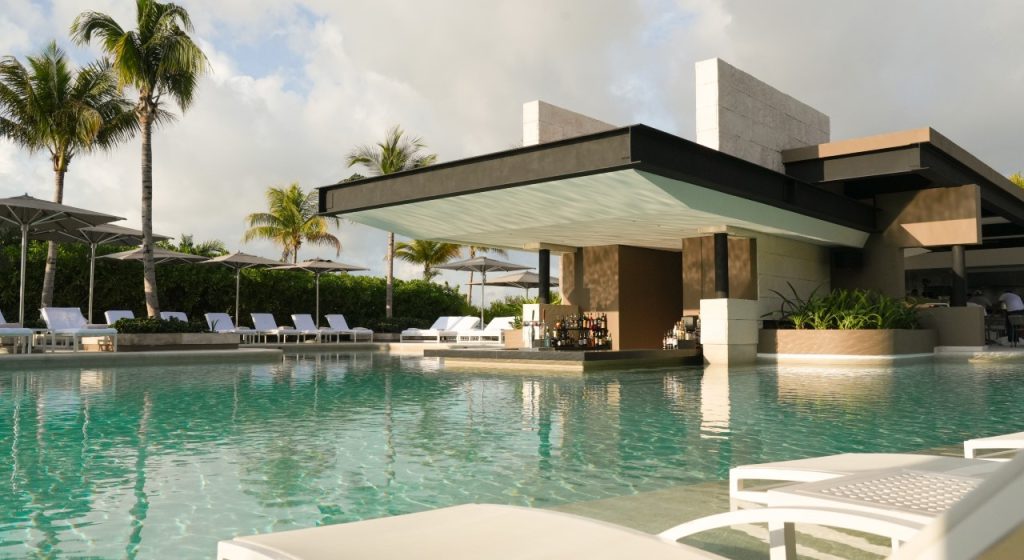 ATELIER Playa Mujeres has achieved a triumphant feat by securing multiple awards in various categories, each highlighting the resort's dedication to providing a unique and unforgettable experience for its guests. This luxurious destination stands as a testament to their commitment to perfection in both luxury and beachfront experiences.
In the categories of "Hospitality – Overall-Luxury Hotel/Resort" and "Hospitality – Overall-Upscale Hotel/Resort," ATELIER Playa Mujeres showcases a remarkable combination of lavish accommodations and impeccable service, setting the industry standard for luxury hospitality. Picture yourself relaxing in the opulent suites, indulging in fine dining, and savoring every moment of your stay with personalized butler service.
ATELIER Playa Mujeres has elevated its culinary offerings with the introduction of "La Punta" and its delectable beachfront cuisine, we've taken our commitment to distinction to new heights, and it's one of the reasons we've earned the title of not only the best resort but also the best beach resort.
But the indulgence doesn't stop there. As an INSPIRA guest, you have the exclusive privilege of enjoying the INSPIRA Beach®, where pristine sands meet the tranquil waters of the Caribbean. Close your eyes and imagine the gentle ocean breeze as you unwind on a private beach cabana, with your butler attending to your every need. The waves serenading your senses while you sip on your favorite cocktail is just one of the many luxuries that the resort offers.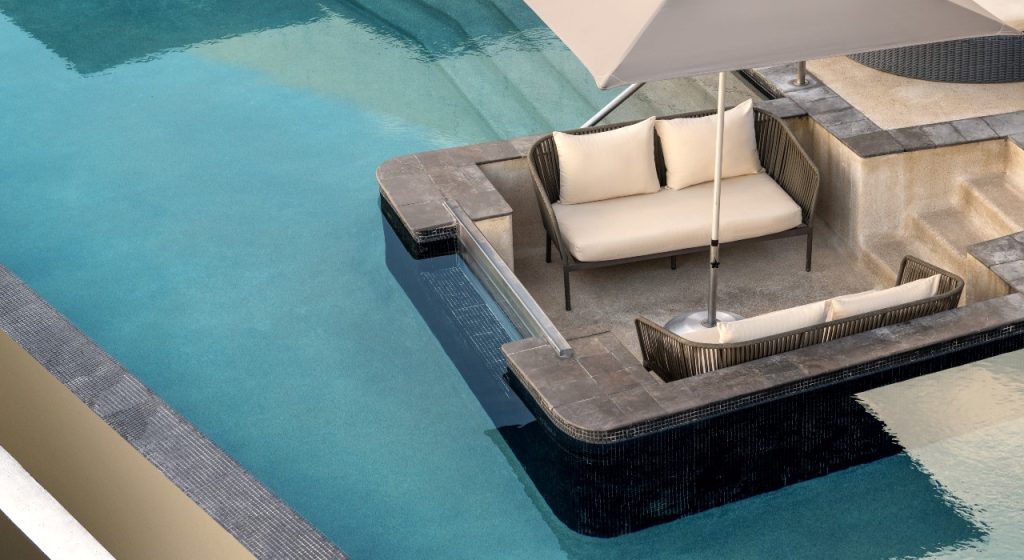 Moreover, ATELIER Playa Mujeres proudly holds esteemed certifications that recognize its commitment to high quality and sustainability. The Playa Platino certification highlights the resort's dedication to preserving Mexican beaches and environmental conditions. The Blue Flag certification, a globally recognized award, endorses the resort's environmental preservation efforts.
For the luxury part, ATELIER Playa Mujeres has earned the prestigious 4 Diamond designation by AAA, the highest classification for hospitality facilities. Forbes Travel Guide has also acknowledged the resort's brilliance, ensuring that it meets over 900 objective standards. These certifications reflect ATELIER Playa Mujeres' unwavering dedication to providing guests with a distinguished level of luxury, service, and environmental consciousness.
In summary, ATELIER Playa Mujeres excels in both luxury and beachfront hospitality. Let your imagination be your first step to an unforgettable vacation, where the best of luxury, beachfront beauty, and culinary delight come together in harmony, all backed by a host of prestigious certifications.
The Secret Behind Winning "Hospitality Elements – Luxury (Five-Star)-Penthouse Design"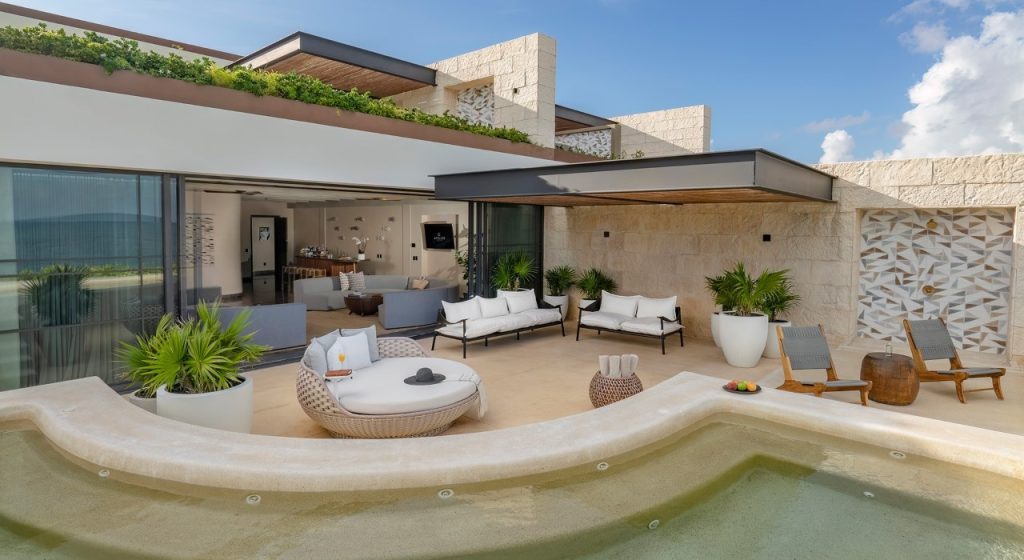 Now, let's delve into the heart of the matter, the reason behind our prestigious win in the "Hospitality Elements – Luxury (Five-Star)-Penthouse Design" category.
Our suites at ATELIER Playa Mujeres are not just rooms; they are opulent sanctuaries where every detail is meticulously designed to ensure your stay is nothing short of extraordinary. From lavish interiors inspired by Mexican craftsmanship to spacious balconies offering breathtaking views, these penthouses are a true embodiment of luxury.
A World of Amenities
Your Suite, Your Sanctuary Step inside, and you'll discover that every suite boasts amenities that go beyond the ordinary. Picture yourself unwinding in front of a plush 55-inch flat-screen TV during a cozy movie night. Your minibar is thoughtfully stocked with your favorite spirits and beverages. As you enter the spa-like bathroom, the Molton Brown® amenities invite you to indulge in luxury. From tranquil evenings in your suite to mornings on the private balcony, we've crafted an experience that is all about indulgence.
INSPIRA Suites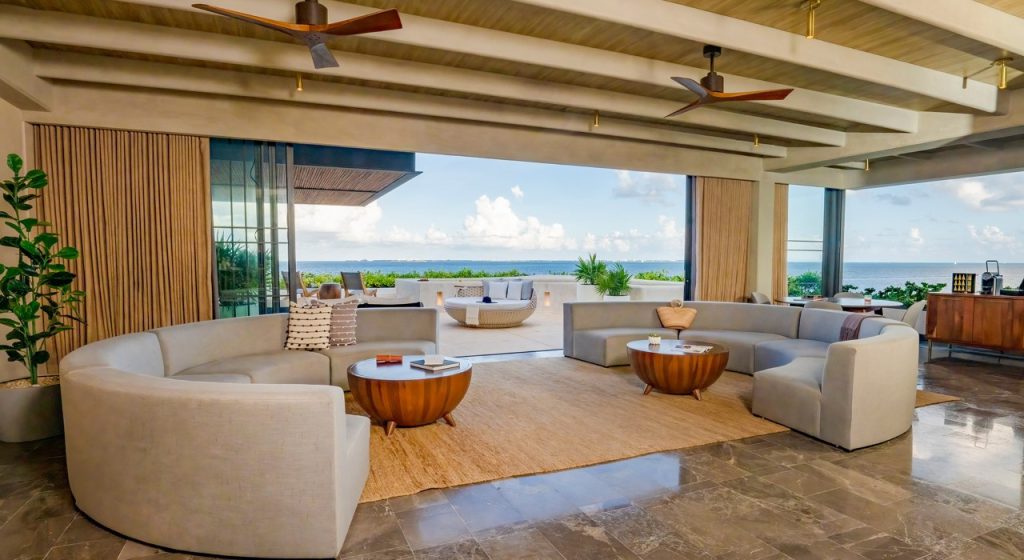 ATELIER Playa Mujeres takes luxury to the next level with our INSPIRA Suites. From early check-ins that cater to your eagerness to start your retreat to the exclusive INSPIRA Welcome Lounge where gourmet snacks, coffee, and premium beverages await, our INSPIRA Suites offer an unparalleled experience. Choose from a menu of dreamy pillows for your maximum comfort and personalize your ambiance with in-suite scents. Your personal INSPIRA Concierge is at your service, ready to fulfill your every request. The Butler service ensures your stay is tailored to perfection from the moment you book to your departure.
Hospitality – Overall-Business/Conference Resort/Hotel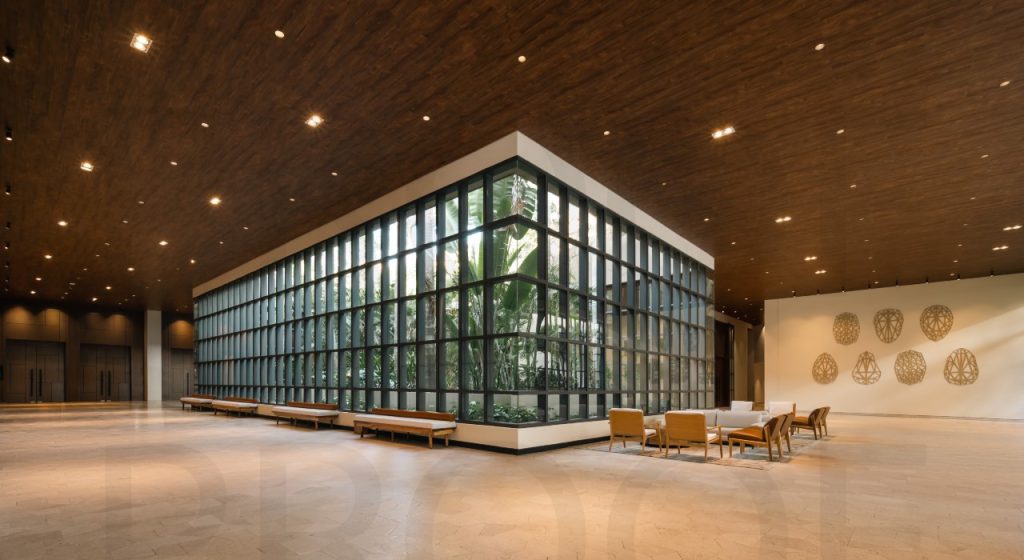 ATELIER Playa Mujeres' versatility extends to the "Hospitality – Overall-Business/Conference Resort/Hotel" category. This recognition highlights the resort's ability to cater to business travelers, offering state-of-the-art facilities and services for conferences, meetings, and corporate events. ATELIER Playa Mujeres is not only a leisure destination but also an excellent choice for business gatherings.
A Relaxation Oasis "Hospitality Elements – Luxury (Five-Star)-Spa Design"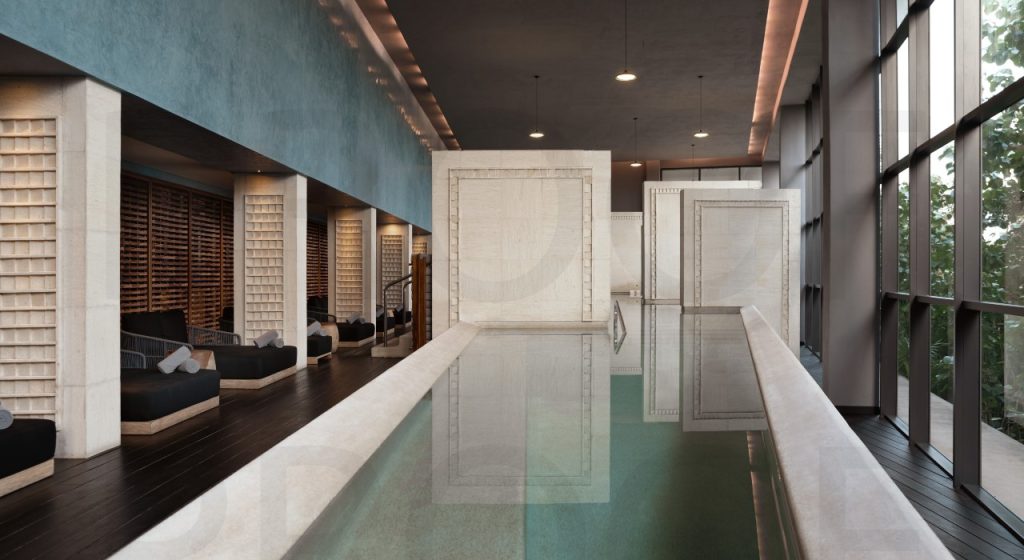 NUUP Spa® Playa Mujeres clinched the prestigious "Hospitality Elements – Luxury (Five-Star)-Spa Design" award for a reason.
NUUP Spa® is a space that's designed to reconnect you with your inner self. It's where your internal energy transforms into a revitalizing experience, guiding you along a serene path of harmony and balance. The spa's treatments and massages aren't just services; they're gateways to liberate your mind and awaken your senses, fostering a new state of consciousness.
A World of Relaxation and Well-Being
Imagine a 3,600-square-meter haven spread across three levels, offering 18 treatment cabins with private showers. Among these, 12 are dedicated to individual treatments, and two are designed for couples, allowing you to share the blissful experience. There are also Spa Suites, both individual and double, complete with soothing tubs and lounging areas.
Beyond treatment spaces, NUUP Spa® features changing rooms, rain showers, relaxation areas to enhance your pre- and post-treatment moments, and a delightful tea and infusion station.
The real magic unfolds with the Hydrotherapy circuit, which includes a steam bath, sauna, sensory showers, a playful pool, bubbling baths, an invigorating cold-water immersion pool, a refreshing hydrotherapy routine, and an outdoor pool.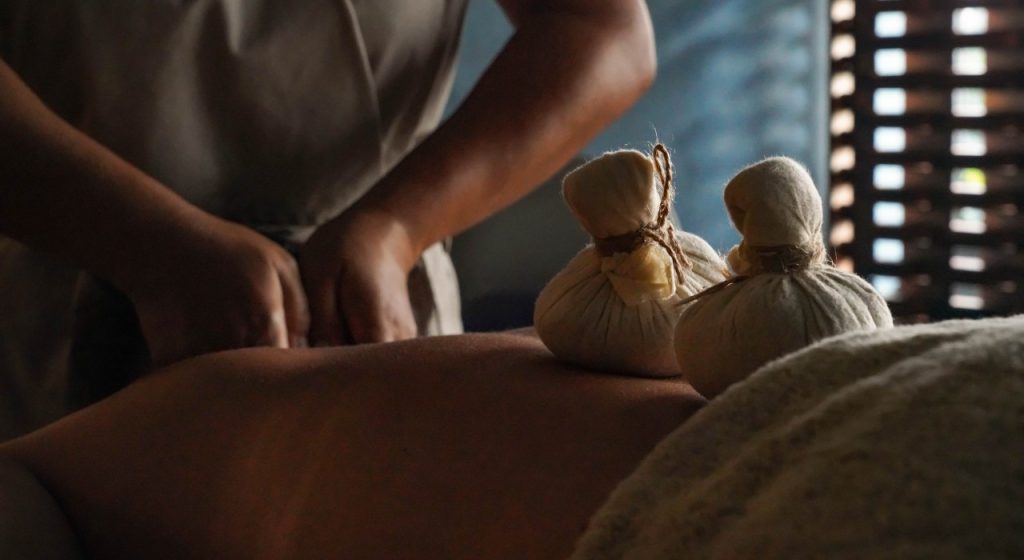 All for Beauty and Beyond
For a touch of elegance, the spa offers a beauty salon for all your pampering needs. There's even a Bridal Dress-Up Lounge®, a private area designed to prepare brides and bridesmaids, complete with a bar, treatment chair, private bathroom, dressing area, and a vanity. It's seamlessly connected to the salon, ensuring a smooth transition into your special day.
It's the holistic approach, the commitment to making your visit a genuinely exceptional experience, and the meticulous attention to every detail that earned NUUP Spa® Playa Mujeres its "Hospitality Elements – Luxury (Five-Star)-Spa Design" accolade.
Hospitality Elements – Luxury (Five-Star)-Restaurant Design
María Dolores by Edgar Núñez at ATELIER Playa Mujeres received acclaim in the "Hospitality Elements – Luxury (Five-Star)-Restaurant Design" category. This recognition acknowledges the restaurant's exceptional design and culinary offerings, elevating the dining experience to new heights.
SILVER – Hospitality Elements – Luxury (Five-Star)-Lobby/Common Space Design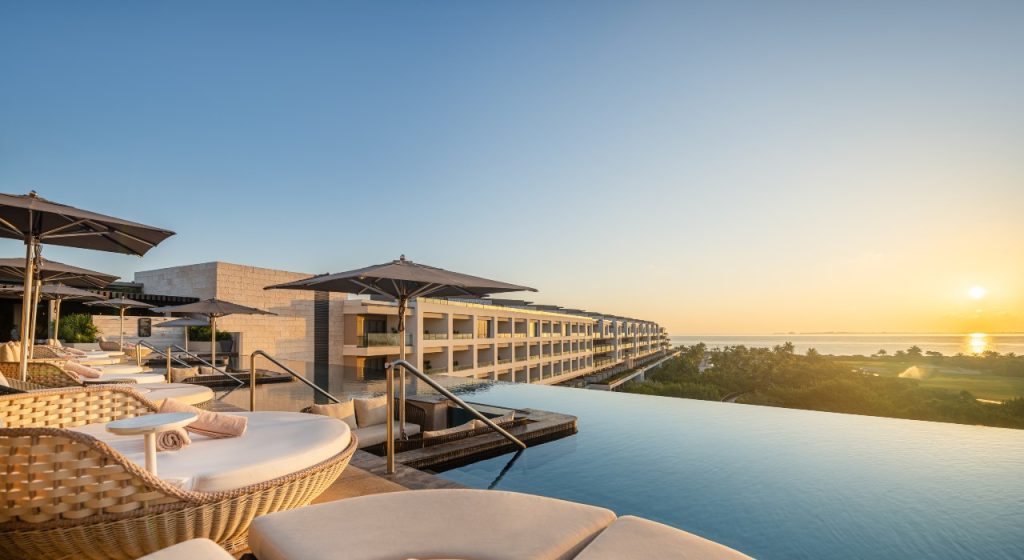 EL CIELO Sky Bar at ATELIER Playa Mujeres proudly wears its "SILVER – Hospitality Elements – Luxury (Five-Star)-Lobby/Common Space Design" award as a badge of honor, and it's not just about aesthetics.
EL CIELO Sky Bar transforms into the ultimate place to be and be seen. It oozes chic sophistication, accompanied by soulful house music, unmatched views of the resort illuminated under the night sky, and an extensive bar where you'll find everything from classic cocktails to creative interpretations of the iconic Martini. This is, without a doubt, the perfect prelude to a memorable dining experience, imagine your days immersed in the bohemian ambiance of an open-air lounge paired with an infinity pool, all while you soak in a panoramic view of the Caribbean Sea.
At ATELIER Playa Mujeres, every common space, every nook and cranny, is thoughtfully designed to enhance your overall stay, and our "SILVER – Hospitality Elements – Luxury (Five-Star)-Lobby/Common Space Design" award is a testament to that commitment. Join us at EL CIELO, where the atmosphere is as inviting as the views are breathtaking, and every moment is a celebration of your journey in paradise.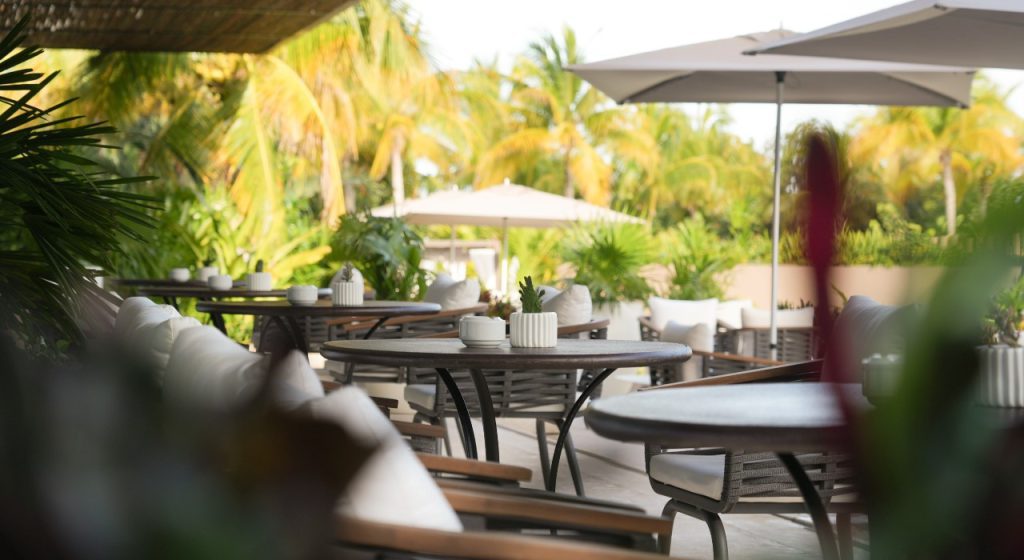 ATELIER Playa Mujeres' impressive sweep at the Magellan Awards is a testament to their dedication to providing unparalleled luxury and hospitality. From the elegant penthouses to the soothing spa and world-class dining, every aspect of the resort is designed to exceed guest expectations. ATELIER Playa Mujeres has not only set a high standard in the industry but has also proven that their commitment to perfection knows no bounds.