NUUP Spa® This luxurious spa destination is the ultimate oasis for travelers seeking the ultimate indulgence.
NUUP Spa® combines ancient Mayan healing techniques with modern spa therapies to create a holistic approach to wellness that will leave you feeling renewed and revitalized. From the Temazcal sweat lodge to the hydrotherapy circuit, NUUP Spa® has everything you need to soothe your mind, body, and soul.
But that's not all! NUUP Spa® also offers specialty treatments like hot stone massages, reflexology, and aromatherapy sessions, all designed to target specific areas of the body and promote overall wellness. And let's not forget about the signature Mayan-inspired décor and serene atmosphere that will transport you to another world.
Escape to Paradise: A Look Inside NUUP Spa® Facilities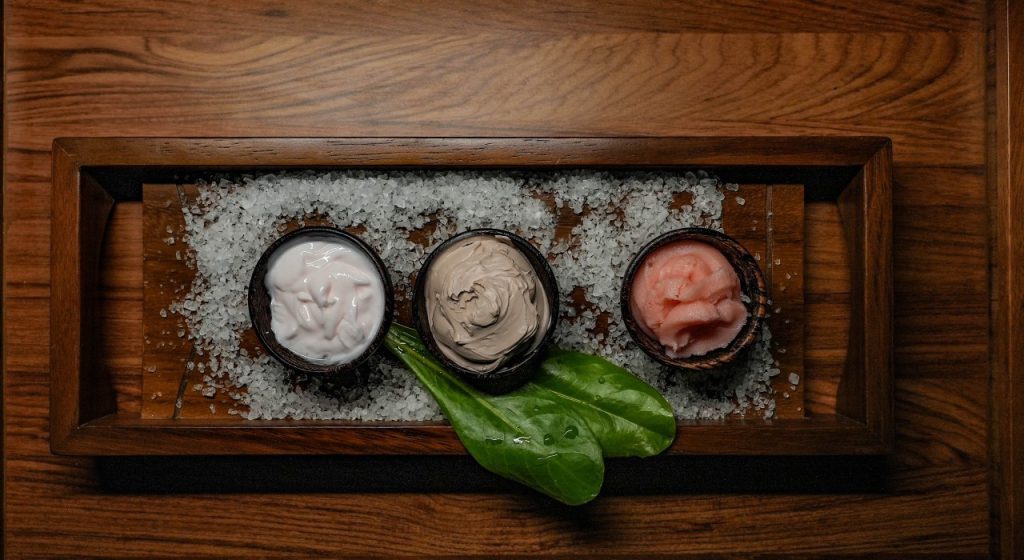 This section of the blog is where we get to dish all the juicy details about the NUUP Spa® facilities. If you're looking for a way to unwind and indulge in some much-needed pampering, then you're in the right place. NUUP Spa® is the ultimate destination for relaxation and rejuvenation, and we can't wait to spill the beans on all their amazing amenities and services. Get ready to be transported to a world of pure bliss as we explore the state-of-the-art facilities and innovative treatments that NUUP Spa® has to offer. So buckle up, because we're about to embark on a journey of fun, fresh, and fabulous pampering!
State-of-the-art hydrotherapy circuit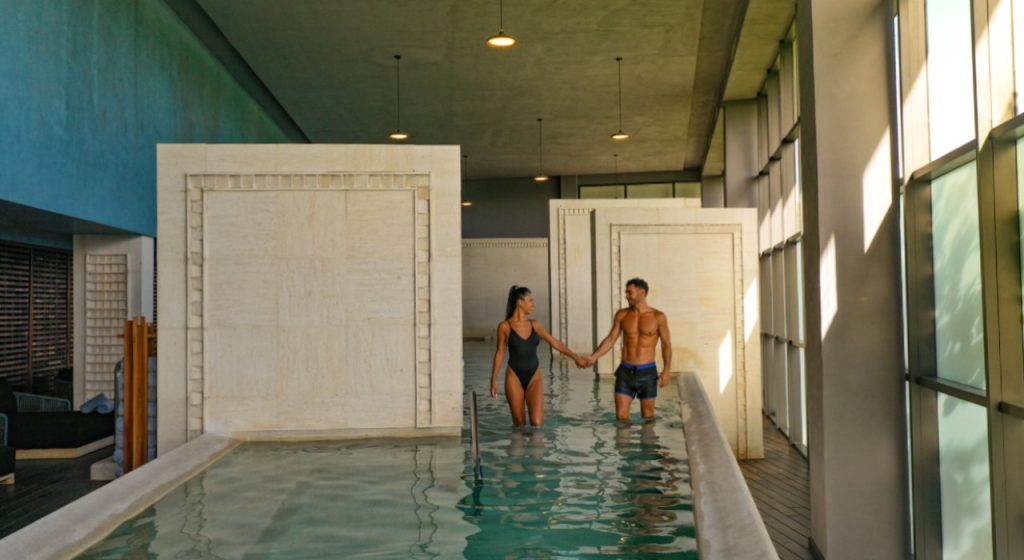 Step into our hydrotherapy circuit, which features a range of facilities that are designed to promote relaxation, detoxification, and rejuvenation. You can start by visiting our steam room where the soothing heat will envelop you, easing muscle tension and promoting relaxation. Or, try our sauna, which uses dry heat to stimulate circulation, improve skin tone, and boost your immune system. Our sensation showers provide a refreshing blast of water to awaken your senses, with settings ranging from a cool mist to a tropical rainforest. And if that wasn't enough, our state-of-the-art vitality pool is the perfect place to unwind and let your cares melt away. With its massaging jets and warm water, the vitality pool will leave you feeling relaxed, rejuvenated, and ready to take on the world.
Welcome to the Beauty Lounge at NUUP Spa® – where looking good is just as important as feeling good! Our talented professionals offer a wide range of services to help you feel pampered, polished, and refreshed.
Beauty Salon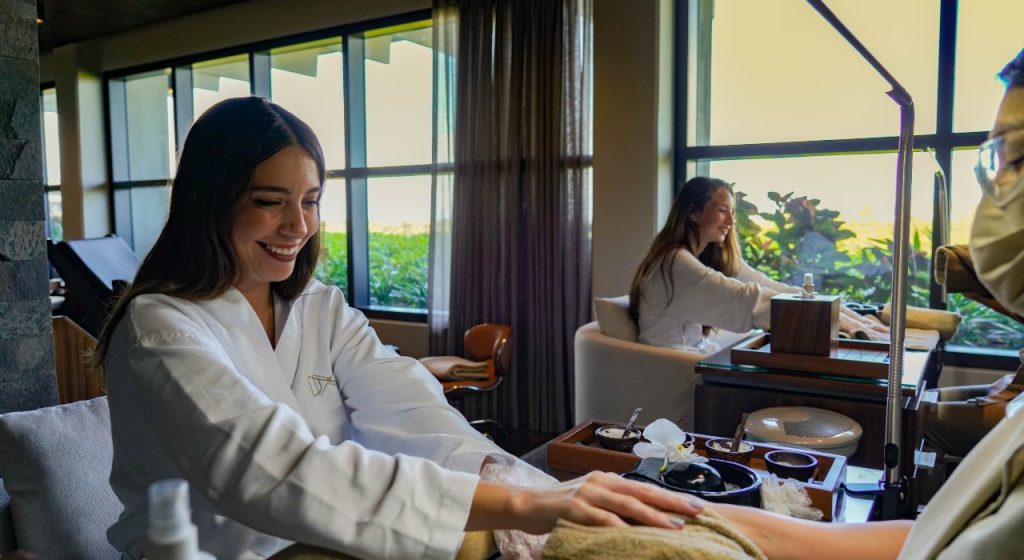 Welcome to the Beauty Lounge at NUUP Spa® – where looking good is just as important as feeling good! Our talented professionals offer a wide range of services to help you feel pampered, polished, and refreshed.
Want to rock a new hairstyle? Our stylists are always up-to-date with the latest trends and techniques to give you a fresh and fabulous look. Whether it's a bold new color or a simple trim, we've got you covered. And with our personalized consultations, you can rest assured that we'll help you find the perfect look to match your unique personality and style.
Don't forget about your nails! Our skilled nail technicians are experts in the latest nail trends, from cute and colorful designs to classic French tips. Sit back, relax, and let us pamper you with our luxurious manicures and pedicures. We use only the highest quality products and techniques to ensure your hands and feet look and feel their best.
But that's not all! Our Beauty Lounge also offers makeup services for any occasion. Whether you need a natural look for a day out or full glam for a special event, our makeup artists will create a flawless look that will leave you feeling confident and beautiful.
At NUUP Spa®, we know that self-care is essential for a happy and healthy life. So why not indulge in some well-deserved beauty treatments? Come visit our Beauty Lounge today and let us help you look and feel your best!
Unveiling NUUP Spa®'s Marvelous Meditation Room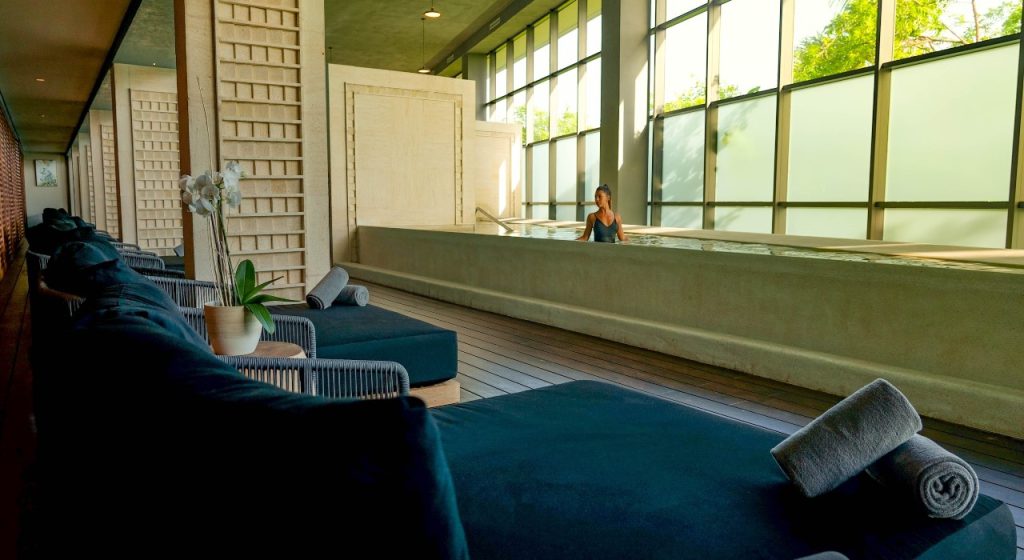 Are you ready to embark on a journey to inner peace and tranquility? Look no further than the NUUP Spa® Meditation Room. This sacred space is specifically designed to create a serene and calming atmosphere that will allow you to connect with your inner self and let go of the stresses of everyday life.
Our meditation experts are on hand to guide you through a range of mindfulness techniques to help you achieve a deep sense of relaxation and inner balance. Our guided meditations and mindfulness exercises, including breathwork and visualization, are tailored to your needs and preferences, ensuring that you can achieve the best results possible.
Meditation is an excellent tool for wellness, providing numerous benefits, including stress reduction, improved mental clarity, and increased self-awareness. In the NUUP Spa® Meditation Room, you'll be able to experience these benefits for yourself. You can let go of all your worries and embrace the present moment, connecting with your inner self and finding the peace and balance that you need to thrive.
The NUUP Spa® Meditation Room is a sanctuary of tranquility that provides the perfect escape from the hustle and bustle of everyday life. With its peaceful ambiance, comfortable seating options, and expert guidance, you can find your inner peace and achieve a deep sense of relaxation and balance. Book your appointment today and experience the transformative power of meditation for yourself.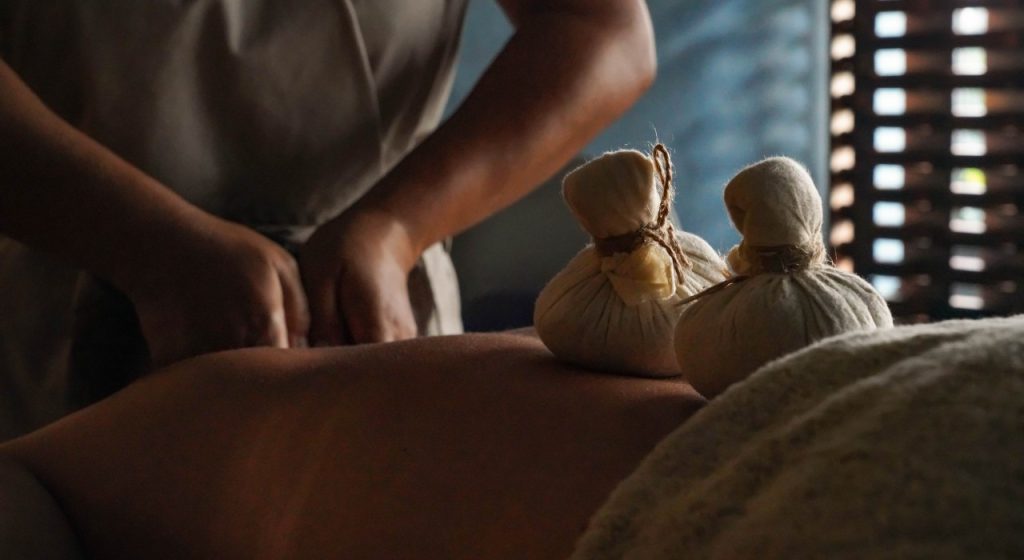 A Worthy Nominee Spa
NUUP Spa® Playa Mujeres is a standout destination in luxury spas. It offers state-of-the-art services and exceptional customer service, which sets it apart. As a worthy nominee for the 2023 World Luxury Spa Awards in the next categories categories:
– Luxury Adult Only Spa
– Luxury Couples Spa
– Luxury Resort Spa
This distinction showcases our promise of delivering transcendent relaxation experiences to our guests, enveloped in the finest treatments and bolstered by our contemporary facilities.
Your votes can turn moments into memories – vote today to help us secure this incredible distinction: https://bit.ly/WLSAwardsNUUPSpa 
Visit us and experience the ultimate spa experience that awaits you at NUUP Spa® Playa Mujeres, where we cater to your unique needs and preferences, providing an unforgettable experience you will cherish forever.
Come and discover the magic of NUUP Spa® today!