ATELIER Playa Mujeres earns recognition as one of the world's finest golf resorts by being included in the renowned Preferred Golf Directory, an elite collection curated by Preferred Hotels & Resorts. With a state-of-the-art golf course, tailored-made amenities, breathtaking views and an Addictive Service® , it's no surprise that ATELIER de Hoteles' signature resort was selected to join the exclusive Preferred Golf directory in its 2023 – 2024 edition.
What is the Preferred Golf Directory?
With less than 100 properties, this exclusive directory is the pinnacle of recognition for golf resorts. The Preferred Golf Directory has visited the most sought-after destinations in the world, from the enchanting meadows of Tuscany to the foothills of South Africa's imposing mountains, to put together the greatest collection of golf lodgings.
The Preferred Golf Directory guarantees even the most avid golf enthusiasts a luxury experience in each resort featured on its pages. Plus, it grants them privileged access to golf facilities, special benefits during their stay and exclusive offers for their much-awaited golf getaways.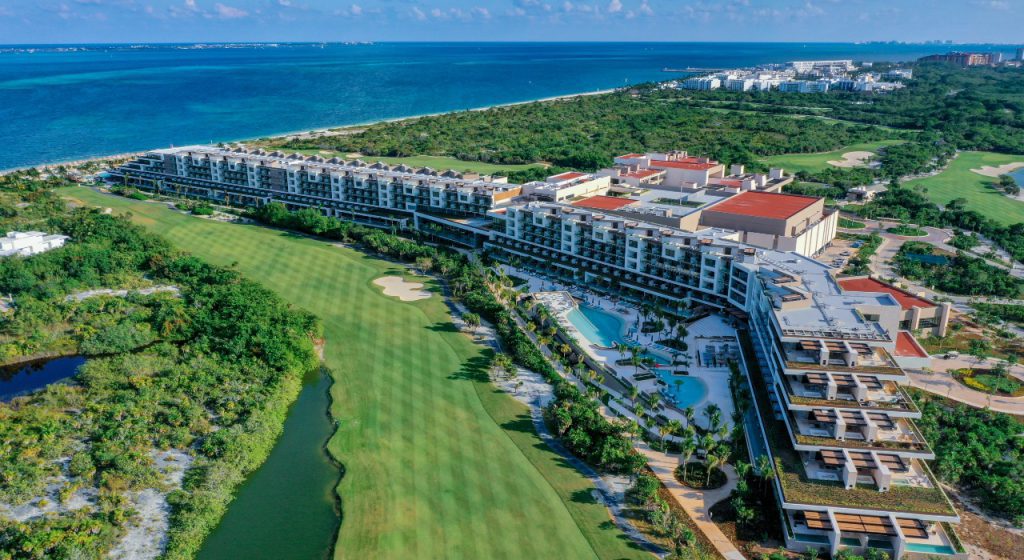 3 Things That Make ATELIER Playa Mujeres a Preferred Golf Directory Resort
ATELIER Playa Mujeres takes pride in its unique concept that blends art, nature, and relaxation to immerse guests in a sensational experience. Its Handcrafted Hospitality®, delectable Culinary Arts, award-winning accommodations that overlook the Caribbean Sea and amazing Golf Course are just a fraction of the wonders that hide beneath this idyllic All-Suites Resort.
1. Discover the Beautifully Manicured Greg Norman Golf Course
Located inside the serene and secluded Playa Mujeres complex, this golf course conceived from Greg Norman's imagination, takes advantage of the coast's natural features to create an 18-hole golf course divided into two jaw-dropping settings of 9 holes each, all contrasting with the intense turquoise Caribbean Sea.
All golf enthusiasts, from beginners to champions, can indulge in a perfect Par 72 game framed by the sound of waves crashing against the shore and the sight of a unique landscape: the Chachmuchuch lagoon and its luscious mangroves that host all sorts of impressive wildlife species, including crocodiles.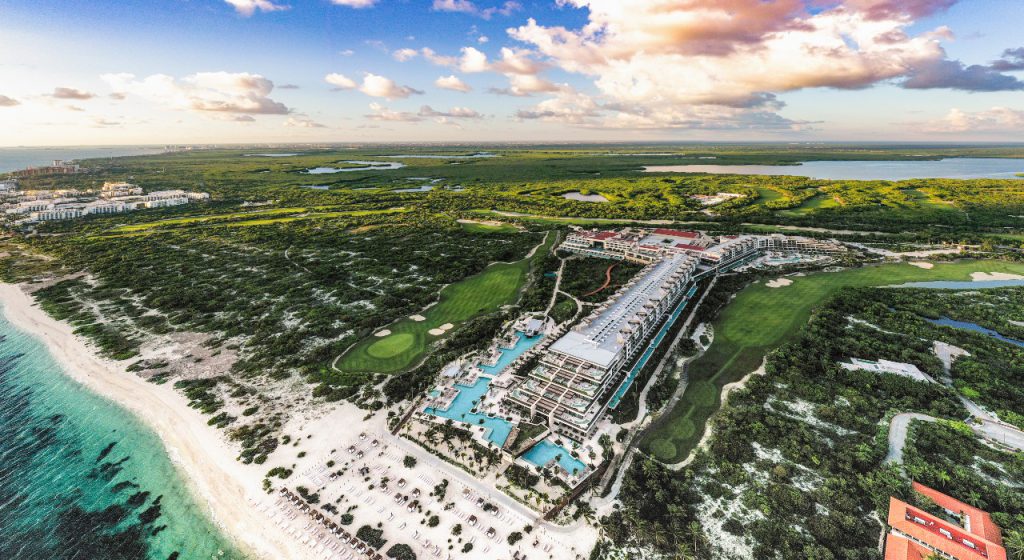 The magnificent 7,218-yard ATELIER Playa Mujeres Golf Course flaunts the following facilities:
Driving range
2 Putting Greens
Golf ProShop
Snack Bar
2. A Convenient Repertoire of Golf Services
Besides its privileged location on the mainland of Isla Mujeres, ATELIER Playa Mujeres offers several services* to make every player feel like a pro golfer, such as Tiger Woods, while enjoying a hassle-free, championship-level golf experience.
A knowledgeable concierge for general assistance and reservations.
Transportation departing from the resort's lobby.
Club rental, including the famous TaylorMade M2 golf clubs. ($)
GPS-integrated golf car rental. ($)
Beverage carts with unlimited water bottles.
A complete refreshment and snack selection. ($)
Attentive caddies for the 3-to-4-hour game.
*All services are subject to availability.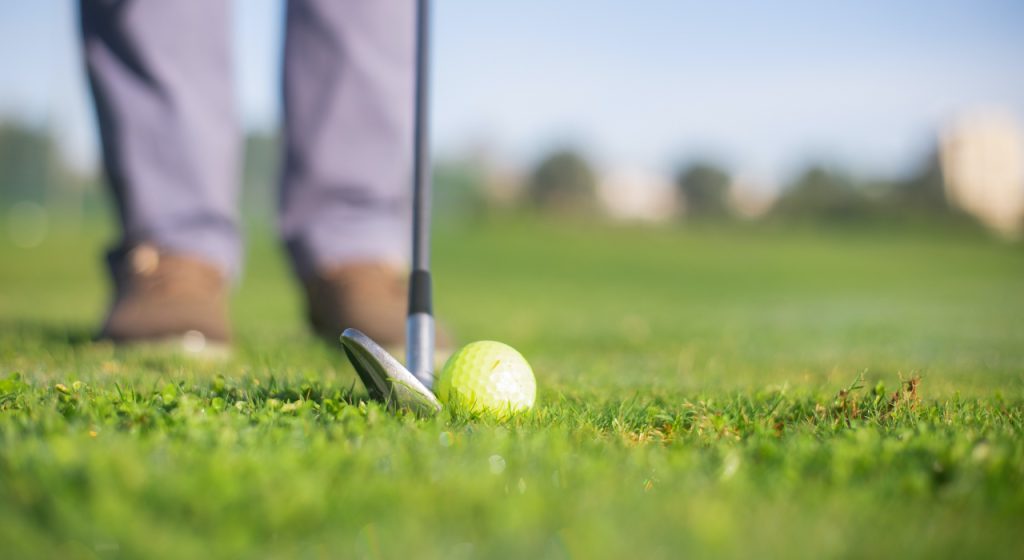 3. Exclusive INSPIRA Green-Free® Benefits
To enhance the experience of staying at the Yucatán Peninsula's top golf destination, ATELIER Playa Mujeres has a selection of lodgings known as INSPIRA Suites, with exclusive benefits and elevated features like outdoor hydro plunges and terraces with panoramic views.
The INSPIRA categories include two golf rounds on stays of 7 or more nights. Additionally, golfers have unlimited access to practice greens on play day at the resort's coastal golf course to ensure they're bringing their A-Game.
The Best Suites for Golfers Staying at ATELIER Playa Mujeres
The vibrant colors of the green paspalum grass, the white sand dunes, and the turquoise horizon greet golfers every morning from the golf-course-view INSPIRA Suites. Be sure to pick one with a terrace or balcony to absorb the beauty of the landscape and prepare your game plan. A couple of great options are the INSPIRA Corner Suite and the INSPIRA Rooftop Suite.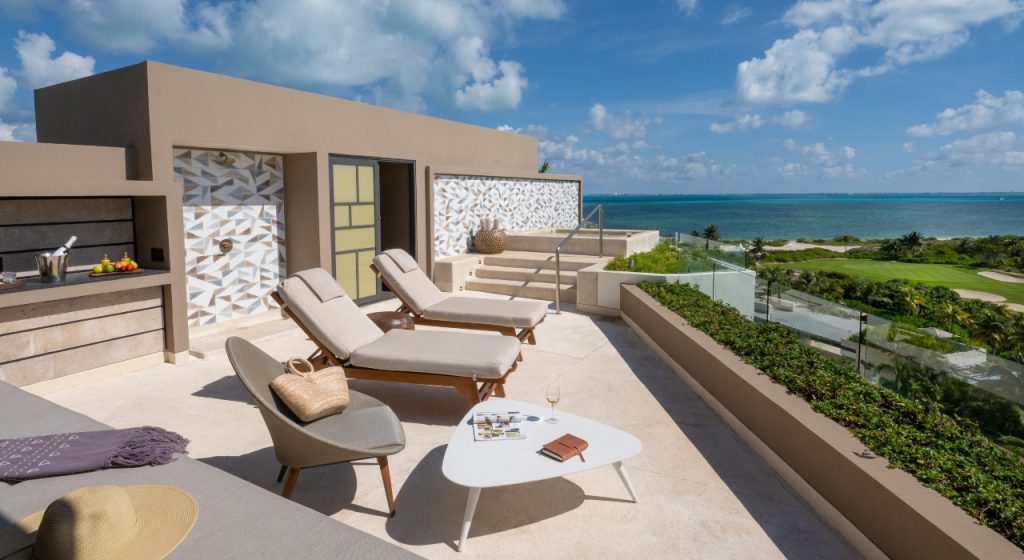 "We had a beautiful roof top suite; Inspira level. Our suite was well stocked with EVERYTHING we needed from drinks, COMFY beds, snacks, the most AMAZING soap, shampoo and conditioner, robes…etc. Our rooftop suite was SPECTACULAR with beautiful views of the golf course and ocean."

– Cara A. January 2023
Now that you're acquainted with everything this Preferred Golf Directory resort has to offer, it's time for you to pack your golfing shoes and head to Mexico for a stay at your new favorite golf resort, ATELIER Playa Mujeres.