Many of us get worried about how many extra pounds or inches we will be packing on when returning home from vacation because a getaway means lots of food and drinks and beach lounging.
However, for those who want to maintain their healthy habits and want to prioritize staying fit while on a tropical vacation away from home, Cancun is the best option because there are so many things to do to stay active, and so many healthy eating options.
Come check out some of the reasons why Cancun is a great destination for fitness and health enthusiasts to choose for their next vacation!
Healthy Vacation Lifestyle Amenities at Your Hotel or Resort
This first step to planning your healthy vacation is getting to know what services and amenities are in place for guest travelers who wish to have a more conscious and fitness-oriented experience.
Gym
Most resorts and hotels have a gym somewhere on the property and typically it is included and available at no additional cost. Here you will probably find basic cardio and weight training equipment, that way you can find a way to stay up to date with your workout routine and stay fit on your Cancun vacation.
Spa
Another wonderful amenity that most resorts proudly offer is access to a spa (though usually, this comes at an additional charge). Here you can reap the benefits of a wonderful and stimulating massage, detox the body in a sauna, or become even more radiant with a facial that utilizes natural and nutrient-rich components to nourish and improve the skin.
Our very own NUUP Spa, located at the ATELIER de Hoteles resort complex in Playa Mujeres, is a must-visit if you happen to be staying at our all-inclusive 5+ star resort that is just for adults and known for its authentically unique Barefoot Luxury® experience.
Beach Activities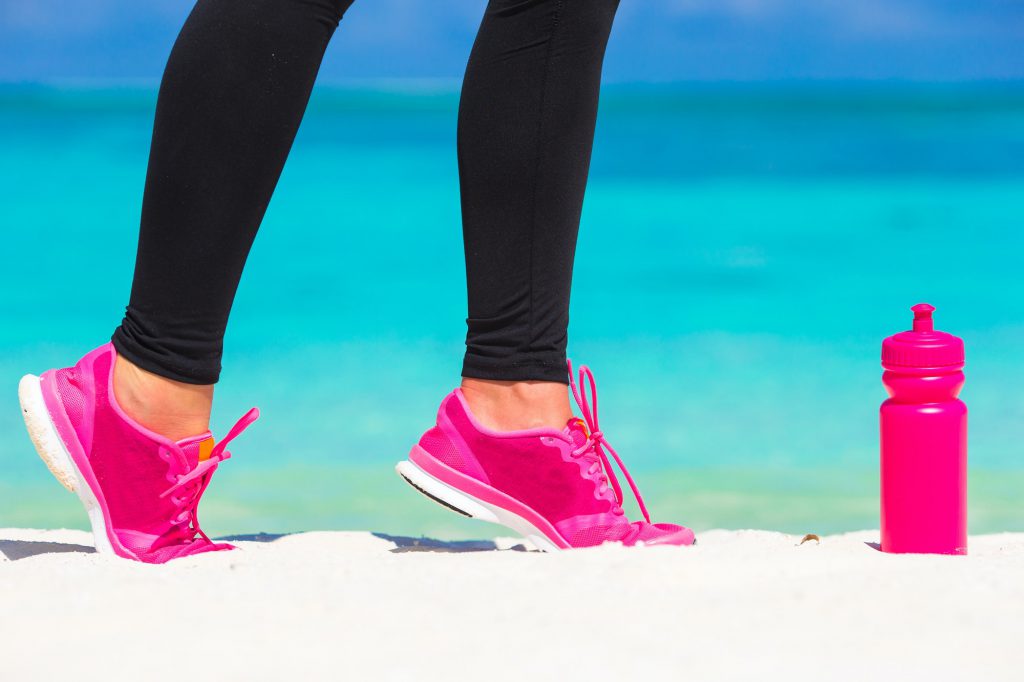 If your resort or hotel happens to sit upon the coastline, then you have no excuse not to be moving around and staying active!
The beach is the perfect spot to have a wonderful and amazing time while doing some aquatic activities that are sure to help you burn calories and stay fit! Check out some of the coolest and most popular beach activities that definitely count as a workout:
Paddle Boarding and Kayaking
Many parts of the beach and shoreline in the Cancun area are mild when it comes to waves and water currents, meaning that activities such as paddle boarding and kayaking are ideal in this part of the Mexican Caribbean.
Stretching for Fitness and Beach Walking in Cancun
The sandy shorelines on the beaches throughout the tropical zone are also perfect for low-impact exercises like lite-trotting, stretching, and relaxing breathing exercises.
Beach Volleyball
We cannot go without mentioning volleyball! Many places along the beach in the Cancun area have sandy volleyball courts so you can strike up a high-intensity barefoot work out and make new friends at the same time!
The beach is probably one of our favorite places to showcase to those wishing to stay active and fit while on vacation in Cancun because not only are the beaches one of the most beautiful aspects of the paradisiacal region, but they are the perfect spots to find a variety of high and low intensity exercising options and fun activities that induce calorie burning.
Eating Fit on Vacation Matters Most
If you are a fitness enthusiast, then you already know that monitoring what food and alcohol you consume while on a trip is one of the most important aspects of staying in form.
Obviously, exercising is a key component to staying fit, but the fuel you put into your body regardless of activity level is the most important thing to be conscious of while indulging on a vacation, especially if it's an all-inclusive one.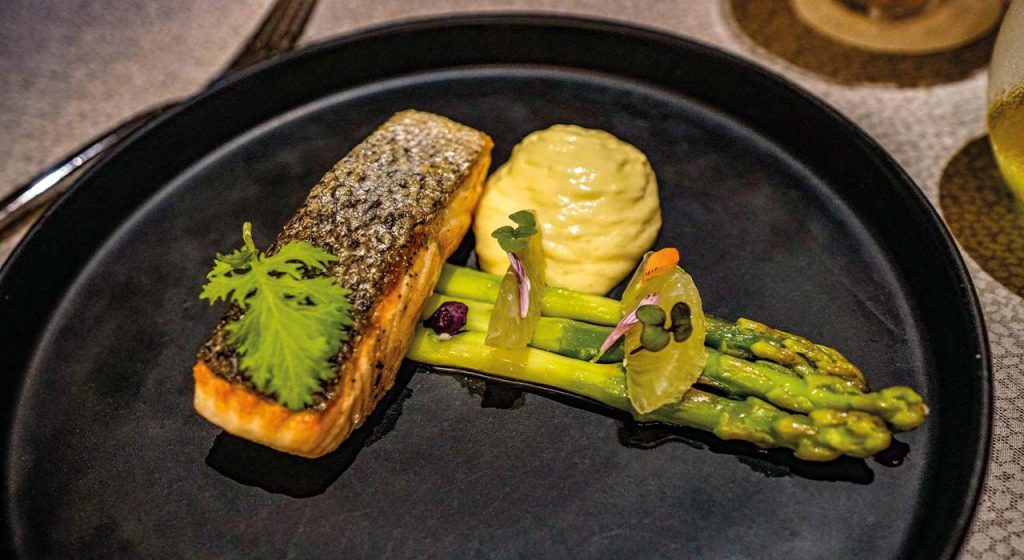 Healthy Menus
One great thing about the hotels and resorts in Cancun is that they cater to fitness and healthy lifestyle-oriented guests. They have special menus, food description sections, or notes present on the food cards to make it easier for diners to select options that are vegetarian, low in calories, reduced fat, etc.
So, if you are looking to still have a great time while enjoying delicious food, but also want to stay on track with your fitness and dietary goals, then be sure to look for the health food indicators and do not hesitate to ask your waiter or other hotel staff about food wellness options when it comes time to eat.
Low-Calorie and Non-Alcoholic Beverages
We must discuss the topic of alcohol while we are talking about vacations, Cancun, and all-inclusive resort experiences…
Health enthusiasts and vacationers that like to stay fit know that alcohol is widely seen as a sneaky way to increase the number of calories being ingested while on vacation.
Ask the Bartender About Fit Vacation Cocktails
The people serving you drinks are there to help you enjoy whatever you want. They will personally concoct anything your heart desires, be it a sugar-free margarita, a delicious low-calorie liquor-based cocktail, a crisp glass of wine, or a lite beer.
And, if you prefer to avoid alcohol in general, experienced bartenders and mixologists will surely be able to whip you up something healthy, refreshing, fun, and with no alcohol!
Adventure and Extreme Sports Tours to Stay Fit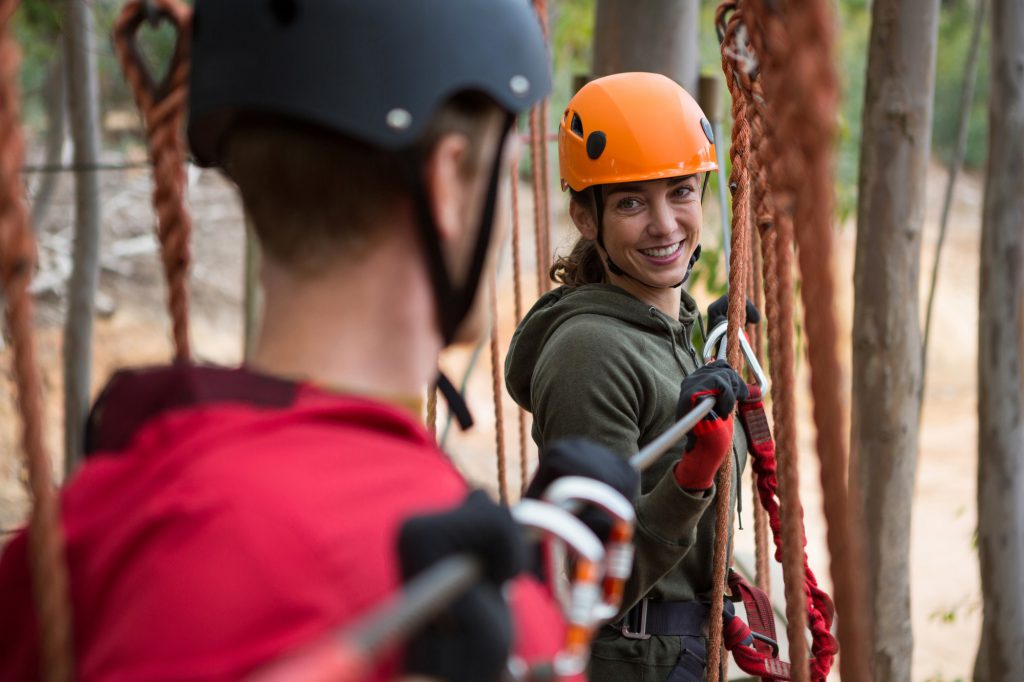 If you can take an excursion away from the hotel premises, jump on it! There are so many extreme activities and naturally breathtaking tour options available in the Cancun area that will help you stay fit and keep the body moving during your vacation.
Zipline Parks
Ziplining is one of the most popular activities that many people flock to when on vacation here. Several parks offer the exciting extreme sport for visitors to recreationally have an exhilarating aerial experience during their stay.
These excursions are a sure way to avoid lazy afternoons of overeating and drinking, plus they enable you to create some of the best memories while traveling.
Selvática is one of the region's most famous jungle adventure parks and has a plethora of extreme ziplines, ATV paths, private cenotes, and even a human roller coaster!
Puerto Maya Cancun is located right by many of the major resorts and offers packages that include snorkeling offshore, jetski tours with tons of speed, as well as boat tours through the Nichupte Lagoon, home to the majestic native crocodiles.
Water Parks
Another wonderful way to stay fit while on vacation in Cancun, especially when traveling with kids or in a group, is to pay a visit to one of the many water parks in the area.
One of the coolest, in our opinion, is Ventura Park (an oceanfront auesment park formally known as Wet 'n' Wild). Here, you can all enjoy a sunny day partaking in fun activities that involve a lot of water and a lot of stairs.
Snorkeling and Scuba Diving to Keep Moving on Vacation
If you are an adventure traveler that feels at home inside the water and actively looks for scuba or snorkel options while away from home, then Cancun and the Riviera Maya are perfect for you!
Stay fit and active by exploring the ocean and awing at the beauty of the majestic coral reef that has its home here in Cancun and the surrounding area.
Staying Fit on Vacation with Help from the Beautiful Great Outdoors
When you think Cancun, you typically think about a warm climate and beaches upon beaches, however, the ecosystem and natural surroundings have more to offer than just the salty sea.
Perfect Weather for any Type of Activity
Yes, warm weather is typically in the cards when you decide to vacation in Cancun, and that means the perfect setting for a fulfilling and enjoyable outdoor workout, that is full of sun rays and pure fresh air.
Whether you want to partake in some bike riding through the urban hotel zone, do some off the beaten path hiking and bird watching, the weather is usually perfect and will make any mini-excursion super worth it!
Paradise for Outdoor Activities Fans
The jungle and mangroves are also wonderful places to explore by means of walking or running, so make sure you pack your reusable water bottle and some eco-friendly mosquito repellent, because you might get a chance to go jogging through some epic tropical pathways.
Paved Pathways for Walking and Exercise
And if the concrete jungle is more up your ally then the endless amount of paved roads and sidewalks will easily allow you to maintain your urban outdoor exercise routine while enjoying your Mexican Caribbean vacation.
Staying fit is a rewarding yet challenging lifestyle choice, luckily a destination like Cancun makes vacationing and staying healthy a little easier for those individuals who are interested and dedicated to upholding their good habits and staying in shape while enjoying a much-deserved getaway to the Mexican Caribbean.