Add color to your life by enjoying a memorable All-Inclusive stay with the beautiful ocean view offered by ÓLEO Cancún Playa, an exclusive 4+ star Boutique Resort that allows you to create your own story, surrounded by unique Caribbean landscapes and the inspiration that will embrace you to live adventures to the fullest with your family. Discover the wonders that make our resort a favorite among travelers who have selected it to win the prestigious TripAdvisor award: Travelers' Choice 2023. 
Immersive Experience in Minimalist Luxury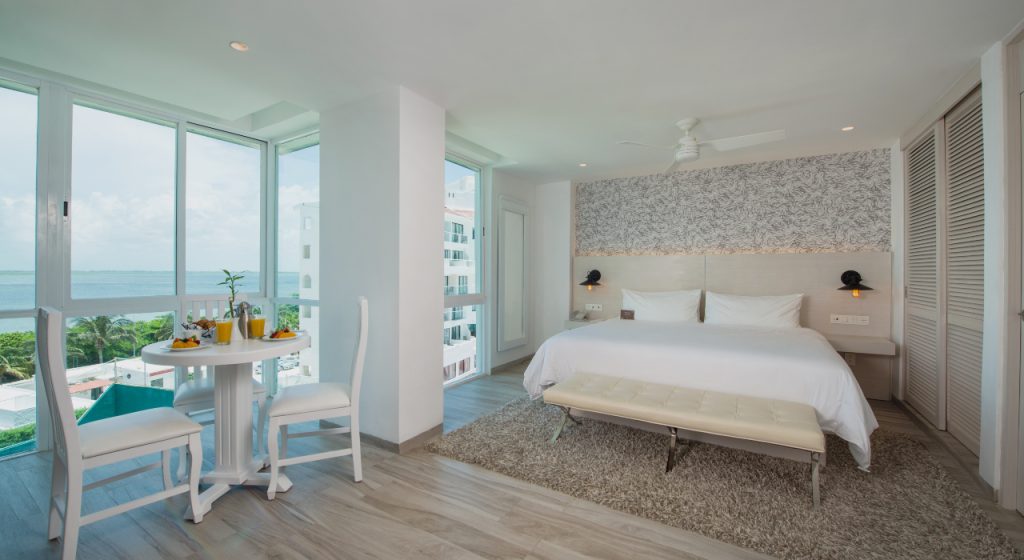 One thing that makes ÓLEO Cancún Playa such a unique hotel is its minimalist luxury style. Its rooms are the epitome of chic minimalism, designed to be enjoyed with the essentials without sacrificing the luxury and exclusivity that you can only find here.
Feel right at home with comfortable and sophisticated facilities and quality amenities that add the perfect touch to an unforgettable stay. Additionally, delight in the breathtaking views that, thanks to our privileged location, allow you to witness the sunrise over the ocean or the sunset overlooking the Nichupté Lagoon.
Inspiring Family Atmosphere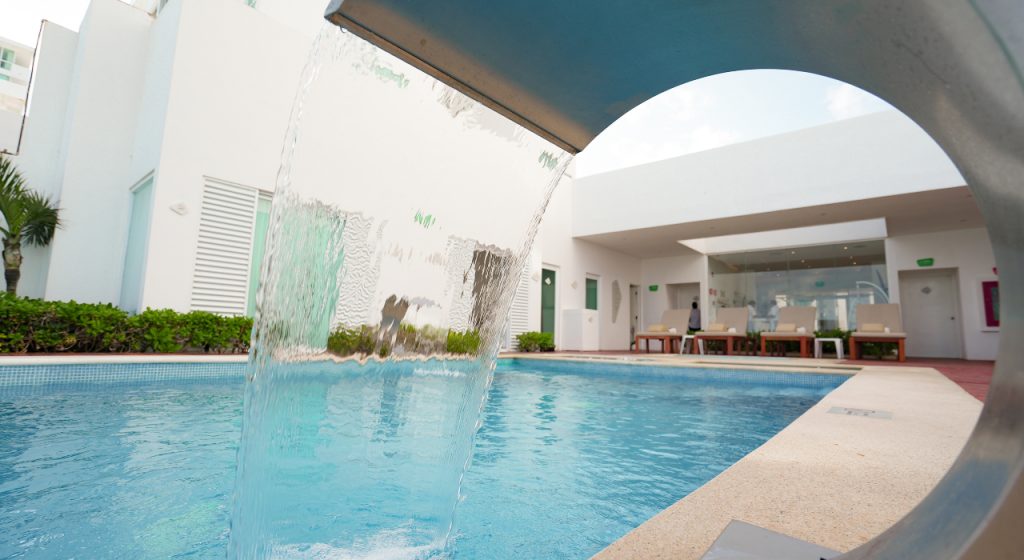 Having a fun-filled experience immersed in art is something you'll never miss out on when you visit ÓLEO Cancún Playa, even if you're traveling with your family. Within the resort, you'll find activities to share incredible moments.
Art Workshop
Because we all have an artist within us, our Art Workshop is the ideal place to express your creativity and discover a new passion. Led by an artist, let yourself be carried away by vibrant colors and create unique art pieces. 
Artistic Expression
Among the activities you can enjoy during the day, you'll find different ways to express your creativity and let your imagination soar. Create fun balloon figures through balloon twisting or delve into more detailed and unique crafts. Laughter is never-ending at ÓLEO Cancún Playa with board games, water activities, music, and our best host: You!
Nighttime Activities
During your stay at our resort, the enjoyment doesn't end when the sun sets by experiencing live music, Mexican nights, DJ parties & karaoke. If dancing and singing are your way of embracing art, you shouldn't miss out on the vibrant nights at ÓLEO Cancún Playa.
Cutting-Edge Accessible Facilities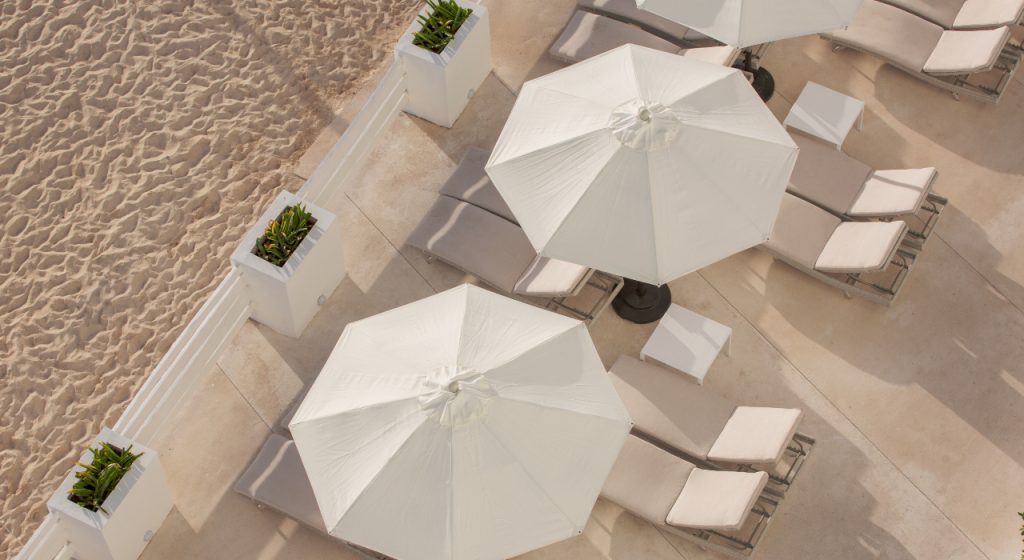 To provide you with a dream-like stay immersed in minimalist luxury, ÓLEO Cancún Playa offers top-notch facilities designed for complete enjoyment by the Caribbean Sea.
With your All-Inclusive reservation, you have access to the following: 
A pool with a fantastic ocean view, where you can indulge in your favorite drink. 
Five restaurants to delight your palate. 
Two bars where our Arteleros will pamper you with specially crafted beverages. 
Tennis court. 
State-of-the-art gym equipped with immersive technology. 
Furthermore, allow yourself to be pampered with our signature ÓLEO Artist Service® and experience a new level of personalized attention straight from the heart.
INSPIRA Suite Service®
Enjoying exclusive additional benefits to your All-Inclusive plan is indeed possible. Our INSPIRA concept is the best way to experience a personalized, top-notch stay within your reach. 
Upon check-in at the hotel, delight in a welcome cocktail with Well-come-in®, receive a personalized letter and welcome amenity, enjoy the possibility of an Early Check-in, and even receive an INSPIRA Vacations bracelet upgrade for preferential service.
Inside the INSPIRA Suites, you'll also receive exclusive amenities and unique services throughout your stay, such as INSPIRA Beach® and INSPIRA Concierge, complimentary services, and special discounts on select offerings, among many other benefits you can't miss.
By booking an INSPIRA Suite or becoming a part of our INSPIRA Vacation Club, you'll receive all the benefits that will make your stay at ÓLEO Cancún Playa the best vacation experience in the Caribbean!
NUUP Spa® Cancún Playa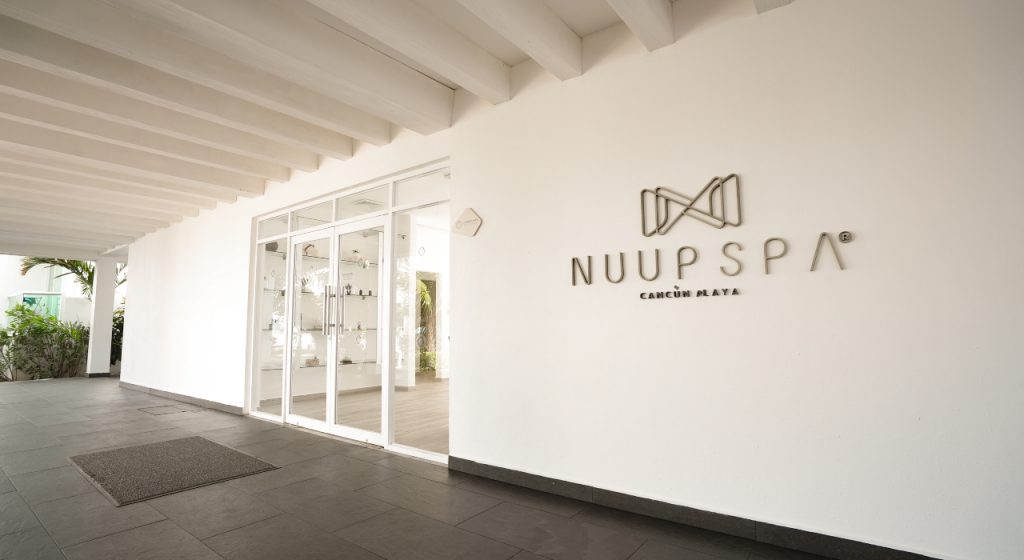 NUUP Spa® Cancún Playa is our luxurious spa, featuring state-of-the-art facilities and exceptional service to pamper your body and soul. Here, your senses are revitalized while your body is purified. Enjoy benefits such as steam baths, sensory showers, saunas, outdoor hydrotherapy tubs, comfortable private cabins with ocean views, various massages and treatments, an outdoor relaxation area, and manicure and pedicure services.
TripAdvisor's Travelers' Choice 2023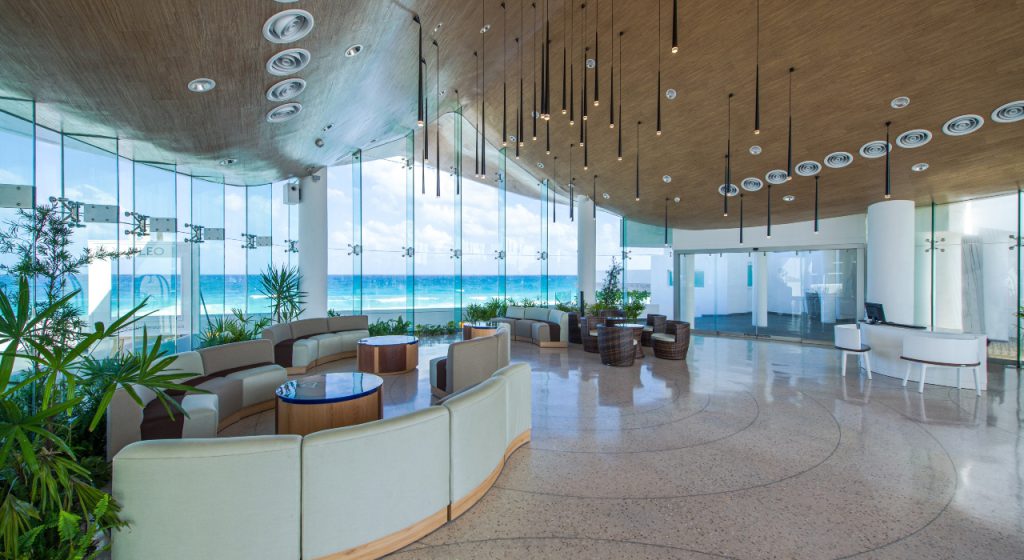 Tripadvisor is an internationally recognized online platform for reviews and opinions in the tourism industry, covering hotels, restaurants, destinations, and entertainment. Thousands of users consult this platform to discover places of interest and recommend and share their experiences regarding service, attention, and overall experience in different parts of the world. 
Each year, two significant events occur on this platform: Travelers' Choice and Best of the Best, awarding the highest-rated stays worldwide.
This year, ÓLEO Cancún Playa has received the Travelers' Choice award and is among the world's top 10% most popular hotels. 
Now, all that's left is to welcome you with open arms, so you can also enjoy the marvelous experience that only ÓLEO Cancún Playa offers.
Reserve your next vacation here and be part of the travelers who have already indulged in our Barefoot Luxury®!