If you are planning on traveling and eloping privately, or if you are intent on sharing your exotic celebration of love with a bunch of guests, look no further!
We have a variety of perfectly romantic venues at our resort properties to ensure the most magical Mexican Caribbean wedding.
When you choose to seal your promise of love with a wedding at ATELIER · ESTUDIO Playa Mujeres or ÓLEO Cancun Playa, we guarantee that we will surpass your romance expectations, and we will have you praising the personalized and service-oriented experience that is drenched in our exclusive Handcrafted Hospitality®.
Weddings Hechas a Mano®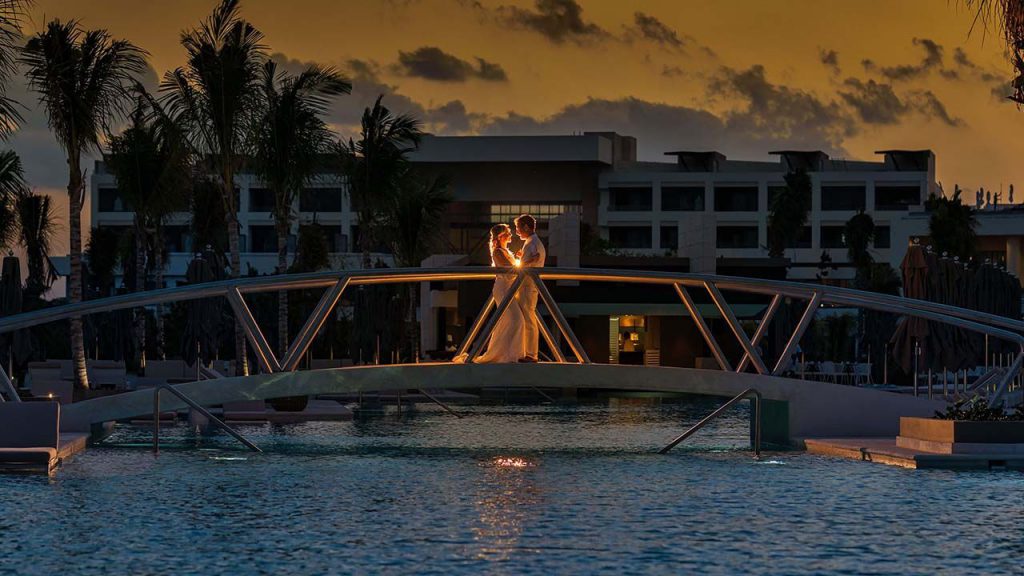 Weddings Hechas a Mano® is a signature concept and approach we use to guarantee that your special Playa Mujeres or Cancun ceremony is uniquely catered to your specific needs and expressed desires.
Our amazing wedding planners and the team of Arteleros who specialize in such romantic celebrations are ready to work with you one-on-one when preparing for your special day.
Our Promise
We promise that this unparalleled celebration will not only live fondly in your memory but also impressionably in the minds of every guest who is blessed enough to attend.
Weddings at ATELIER · ESTUDIO Playa Mujeres
Our hotel complex which sits upon the tranquil shoreline of the secluded and private Playa Mujeres gated community is the ideal place for those love birds who want to tie the knot magnificently and uniquely.
For your ATELIER · ESTUDIO Playa Mujeres wedding, we have different venue options for your special day, including the beach, terraces, or a convention center ballroom.
Now let's take a look at these state-of-the-art romantic destination wedding venues, shall we?
Beach Wedding
There is nothing quite like saying "I do…" at the edge of the Mexican Caribbean coastline, where the sound of the waves and the color of the sky rejoice with you as you make your promise of eternal commitment and love.
Terrace Ceremony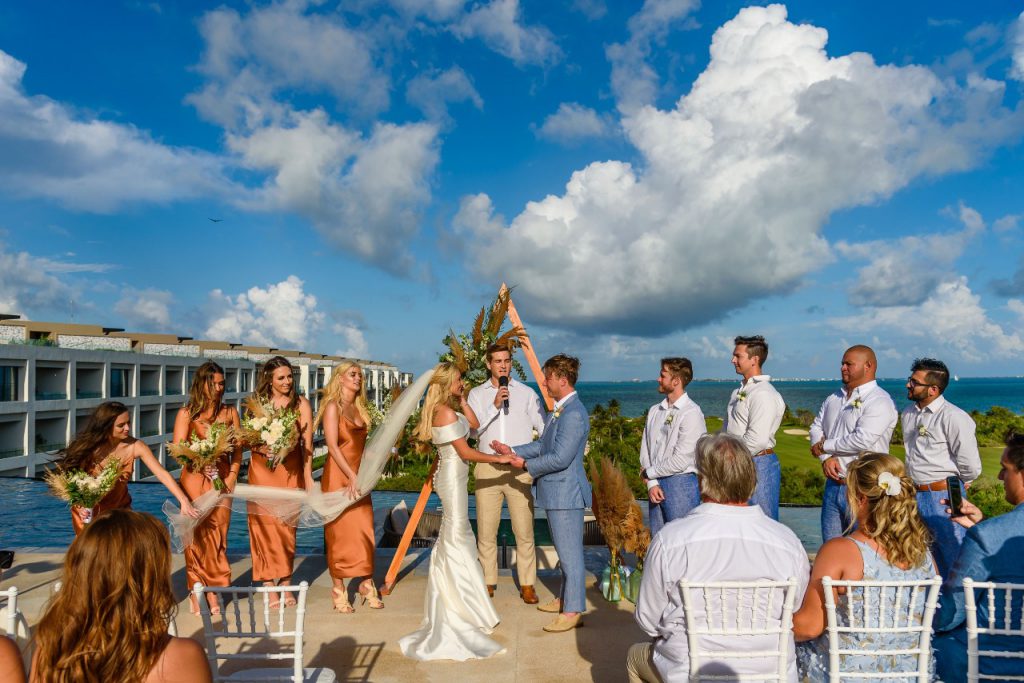 Another fantastic option for an amazing Playa Mujeres wedding is our terrace venue option.
This is the ideal adults-only spot for those who would love a stunning eagle-eye view for their Playa Mujeres wedding with a breathtaking and natural surrounding area for their magical ceremony of love.
Convention Center Ball Room Celebration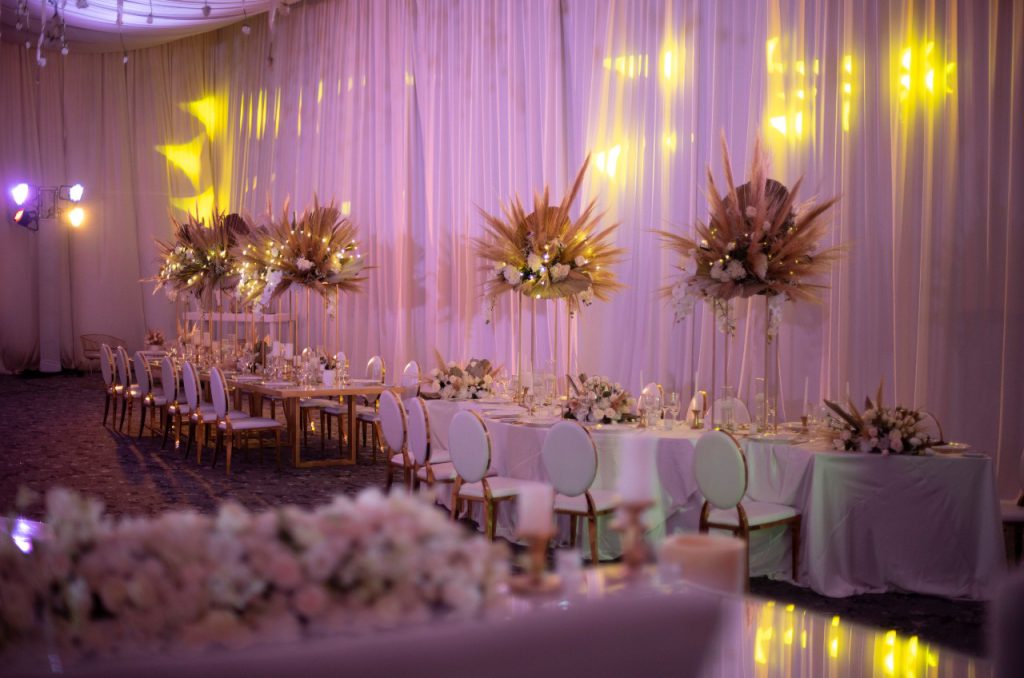 If an indoor and private venue is what suits your fancy, then choosing from one of our fully-equipped convention center meeting rooms is the perfect spot for your destination wedding.
Catholic Chapel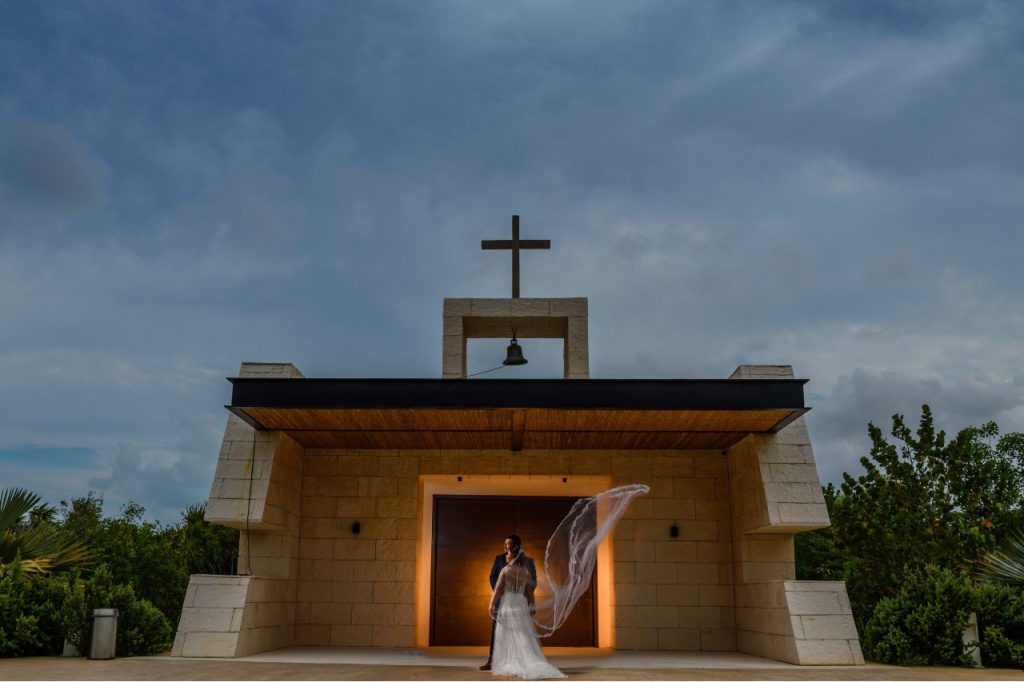 For those looking for a religious ceremony, our resort has a beautiful catholic chapel to officiate your wedding. Picture yourself walking from the entrance of the chapel, listening to the wedding march, and receiving the holy blessing of the sacrament of Catholic marriage while sealing your love.
Weddings at ÓLEO Cancun Playa
Our minimalistic boutique resort facing the stunning coast of Cancun offers couples unparalleled service for a truly romantic and unforgettable wedding ceremony.
For your ÓLEO Cancun Playa wedding, we have different venue options for your special day, including the beach, an indoor restaurant, the pool deck, and the comfy lobby with an amazing ocean view.
Let's see the different chic wedding venues!
Beach Wedding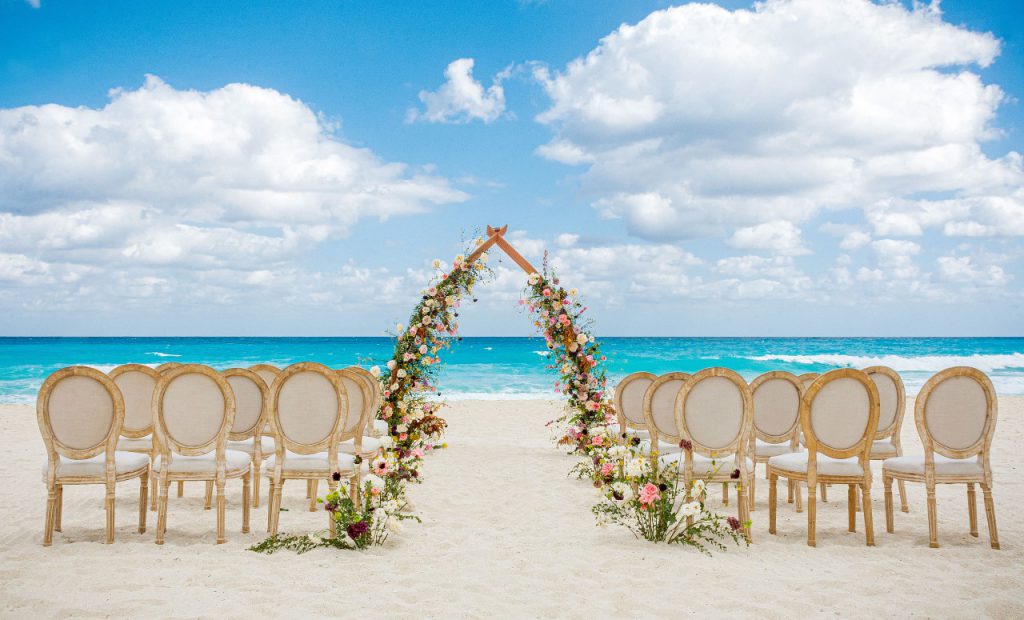 The gentle sea breeze, the smooth white sand on your feet… Sounds like the perfect place to get married. If you want a more private wedding ceremony, the beach is a yes or yes! And it's the most romantic and requested place for your happily ever after the celebration of love!
Wedding Reception at Almar Restaurant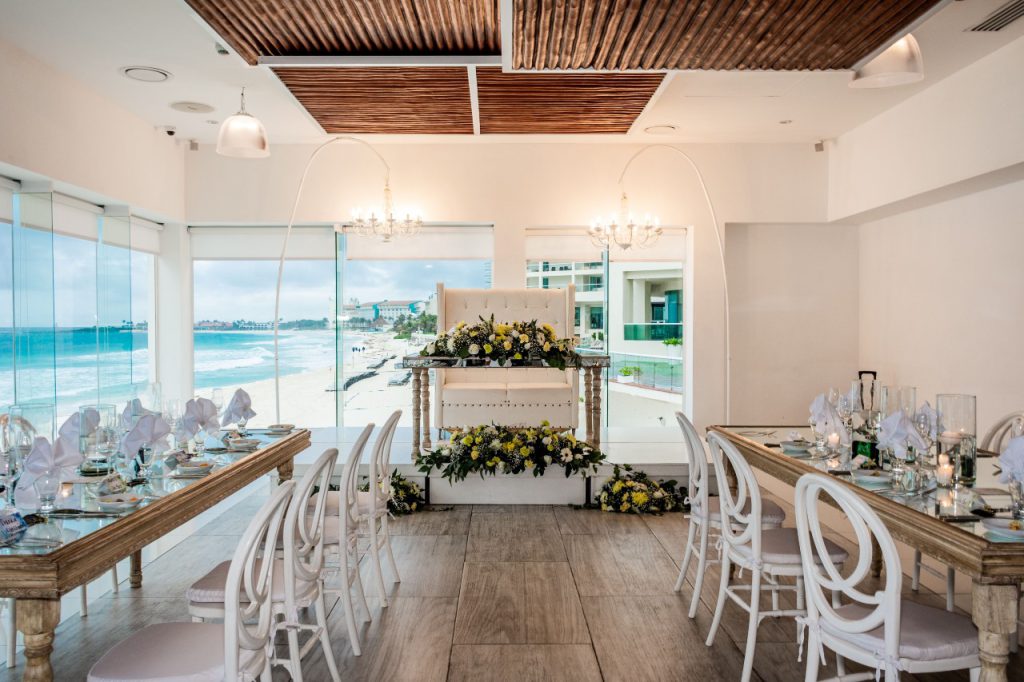 This private location with a privileged view of the ocean is another great option for your Cancun Wedding. At night, this venue transforms into a minimalistic wedding reception venue that is the ideal spot to dance the night away and have fun with all your loved ones!
Outdoor Pool Terrace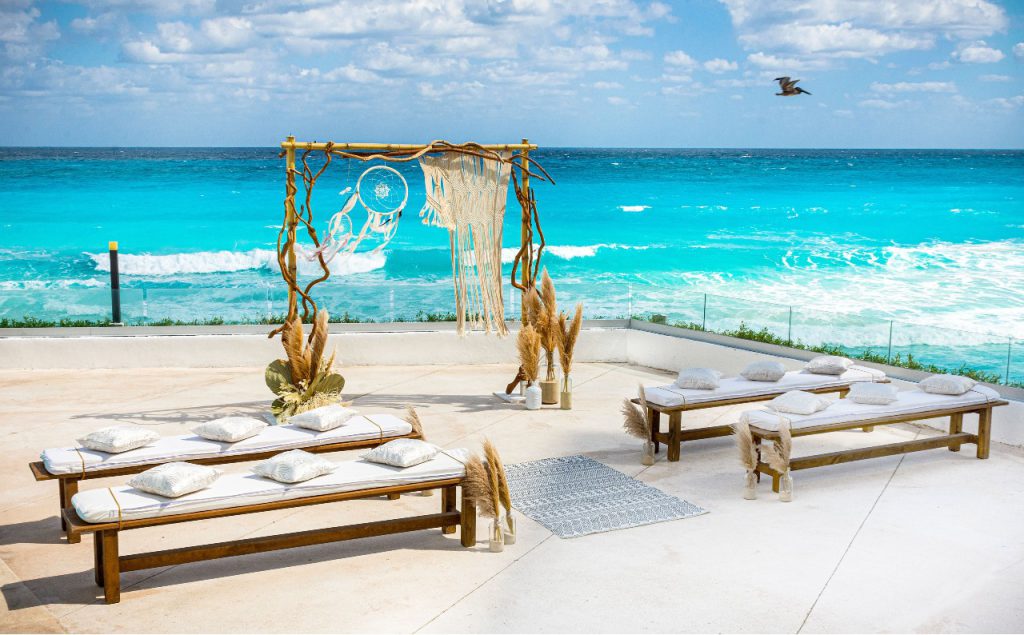 This area just beside the pool features the contrasting beauty of the coastline of Cancun, a dazzling option to celebrate your commitment to love. Imagine the beautiful turquoise sea in front of you on your special day. Sounds amazing, right?
Lobby Ceremony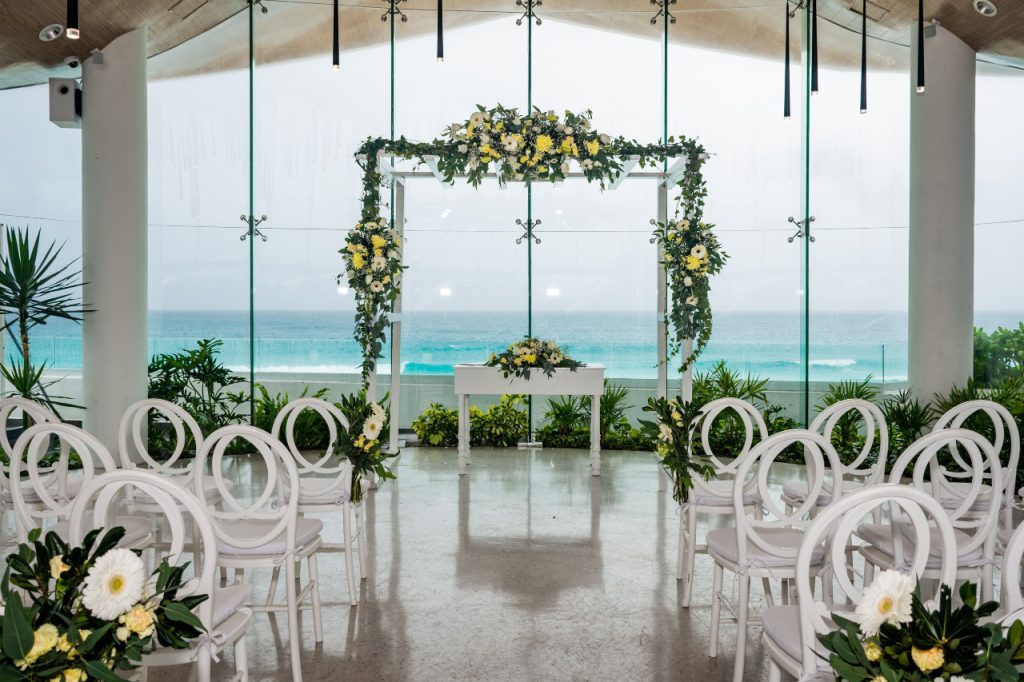 It can sound a little bit different than the typical wedding celebration locations offered but trust us, this private indoor venue is perfect to get married. The lobby at ÓLEO Cancún Playa features an oceanfront view of the well-known marvelous Caribbean Sea.
Welcome to Wed
Go big or go home, right?
Well, you cannot go wrong with these incredible offerings and our wedding specialists are waiting to welcome you and cater to your every need to make sure this will be the wedding everyone will keep talking about.
For an epic ATELIER · ESTUDIO Playa Mujeres or ÓLEO Cancun Playa romantic wedding, we have these eight perfect venues, and we are ready to guarantee your destination celebration is nothing short of magical.
Whether you choose the beach, the terrace, or a meeting room, you will surely be pleasantly and wonderfully surprised at how amazing your special day will be.
Contact Us to Start Planning your Mexican Caribbean Wedding
To learn more about our wedding venues and packages, click here, or call us at (800) 062 8899 from Mexico, at 1 (888) 585 8234 from the USA, or at +52 (998) 271 6304 from the rest of the world to speak with a representative and start planning your dreamy destination wedding with us!
Did you celebrate your big day at one of our exclusive resorts?
-or-
If you are planning on tying the knot with us, which venue are you going to choose?
Share your thoughts and experiences with us in the comments below: