Cenotes are mystical and magical water, rock, and cave formations that can be found all across the Yucatan Peninsula and are some of the most natural and beautiful tourist sites, which is why Cenotes are the hidden jewels in Cancun and Riviera Maya!
When you are in Cancun or the Riviera Maya, you have to take the time to visit at least one of them.
Lucky for you, there are literally thousands of them… so embarking on a cenote tour or adventure shouldn't be difficult at all.
Give Me All the Cenotes!
Yes, you read that correctly… There are over 10,000 cenotes located all over the entire Yucatan Peninsula!
Interestingly enough, they are all connected via a massive underground collection of veinous waterways, rivers, lakes, and caves.
In fact, it is the largest subterranean freshwater cave system on the entire planet.
These natural and beautiful formations can be found in the surrounding areas of Cancun and the Riviera Maya and are some of the most popular and most frequented places for tourists.
Cenotes, The Hidden Natural Jewels in the Riviera Maya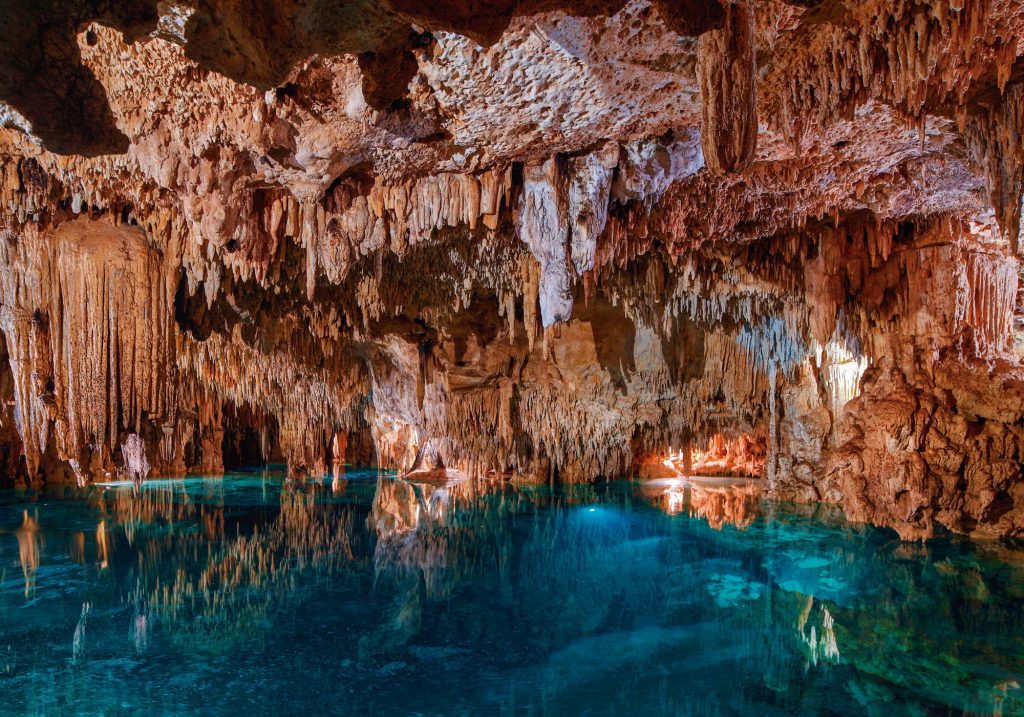 Cenotes are mysterious, illuminating, wonderous, and dazzling natural wonders that are mostly hidden within the jungle, however, some are quite easily located due to their proximity to the coastlines and urban tourist areas.
As you may already know the Mayans did use these sacred holes for sacrificial and ceremonial religious purposes, as they believed they were the entrance to the underworld.
However, most of them were not used for such reasons, so don't be worried about brushing across a skull or the bones of a virgin that was given up for offering whilst taking a dip.
Check out more about these fascinating bodies of water and their importance to ancient Mayan culture, by seeing what the experts at National Geographic© have published here.
All Shapes and Sizes
Some of the cenotes are very shallow and glisten when the sunlight delicately dances upon the multi-colored rock beds beneath the surface.
Others are a deep and dark shade of blue since they can reach a depth of 100 meters or more. Make sure to get yourself a lifejacket!
Stalagmites and stalactites are also common features of the more ancient, covered bodies of water adding diverse and awe-inspiring characteristics to these incredible natural formations.
Cancun Nearby Cenotes
Honestly, there are so many options to choose from when deciding which cenotes to visit, but as mentioned before, we highly recommend that you dedicate at least an afternoon to go and admire one(or more).
Here are just a few cenotes that you can visit on your upcoming Cancun getaway:
Cenote Siete Bocas in Puerto Morelos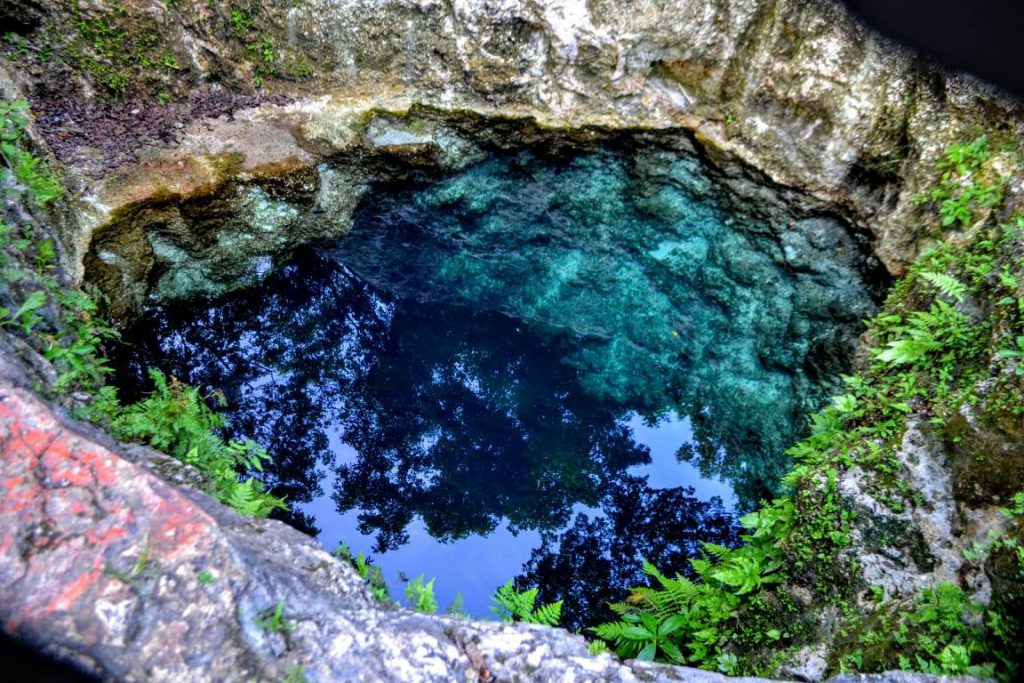 This cenote is known for its seven entrance points to the underground waterways and rivers it contains. Here, you can cliff jump, dive, explore, or take a leisurely swim, and even bring a picnic along ensuring a fun-filled and adventure-packed day mixed with a bit of relaxation, too.
Cenote Azul in Playa del Carmen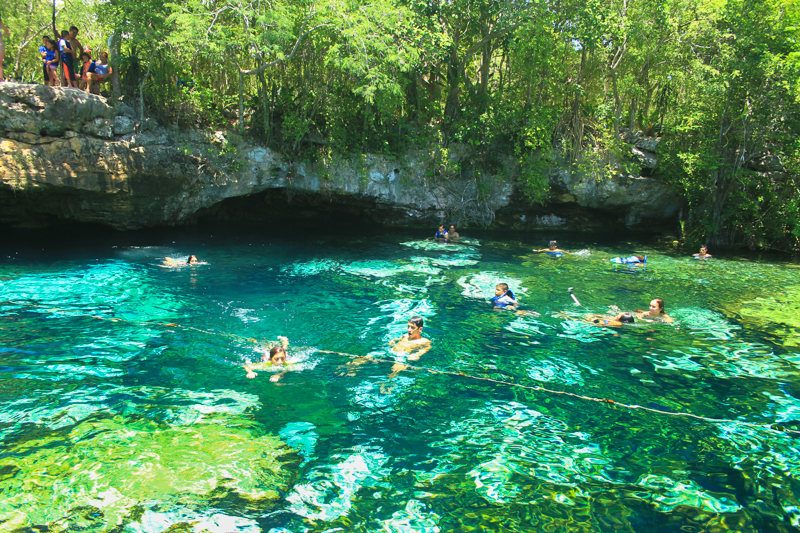 This selection is one of the open water hole formations that is exposed to the sun allowing the water to beautifully display shades of topaz and turquoise, ideal for photos and selfies!
It's even close to other wonderful sinkholes, making it a perfect place to begin a cenote hopping adventure.
Cenote Dos Ojos in Tulum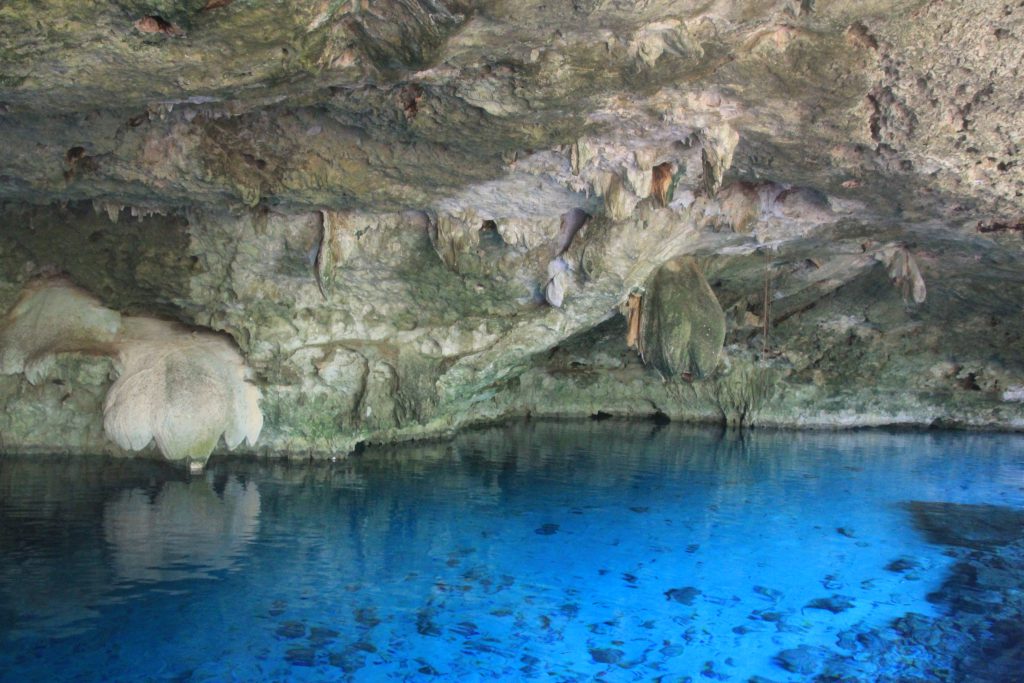 Located roughly an hour and a half from central Cancun, this is a great choice, because the location is technically comprised of two cenotes that are connected with an underground river cave. If you're into scuba diving, this is a great place for you.
Cenote Samula and Xquequen in Valladolid, Yucatan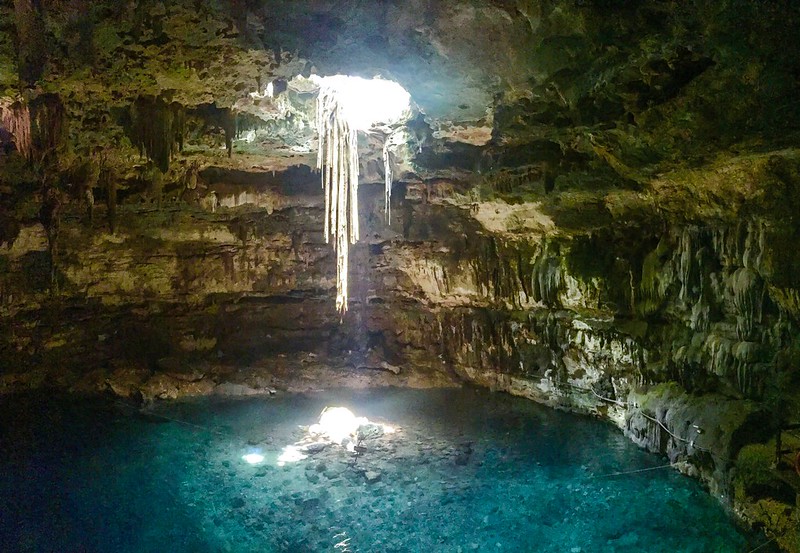 This is natural beauty at its finest and is located in one of Mexico's magical towns, Valladolid, which is a little over two hours from Cancun, in the Mexican state of Yucatan; however, we assure you that it's worth the trek.
This is another two-for-one cenote destination where you can see the underground water and rock formations with stalagmites and stalactites included.
Cenote Yalahau in Yum Balam Nature Reserve
Of all the listed destinations, this one is one of the most unique and less frequently visited cenotes because it's a bit off the beaten path.
People typically get there by boat, as it faces the island of Holbox, and is in the heart of a natural preserve.
This is a precious coastal spring cenote, where freshwater emerges and joins the sea in the mangrove that is northwest of Cancun.
Whether you decide to give one of our suggestions a try or opt for a different one of your choosing, we are sure that a cenote experience in the Cancun or Riviera Maya area will greatly impact the quality of your vacation in Mexico.
When it comes to cenotes, it's a never-ending conversation!
Have you ever visited a cenote in Cancun or the Riviera Maya before?
If so, share with us your favorites and follow us for more travel tips and recommendations about the amazing cenotes!